How To Play High Card Flush From Felt Gaming
We've discussed Three Card Poker in recent weeks, but there's a new game that's making its way into Australian online casinos that you should check out. High Card Flush is Felt Gaming's newest poker table game. The game is similar to Three Card Poker, however it is entirely focused on suited hands.
Today, we'll show you how to play this game, as well as the different types of bets you can place and the basic strategy for playing it.
How To Play Flush With High Cards
High Card Flush is a modified variant of Seven Card Stud poker that is similar to Tri Card Poker in terms of gameplay. The goal of the game is to beat the dealer with a flush hand. You'll always get at least a two-card flush each hand, so you can play every hand if you like.
You can place up to three bets at the start of each game. The Ante is the sole bet that must be placed. You can also gamble on a Flush or a Straight Flush. If you make a four-card flush or better, you win the Flush bet. You must make a three-card straight flush or better to win the Straight Flush bet.
Check out our page: Real Money Pokies Australia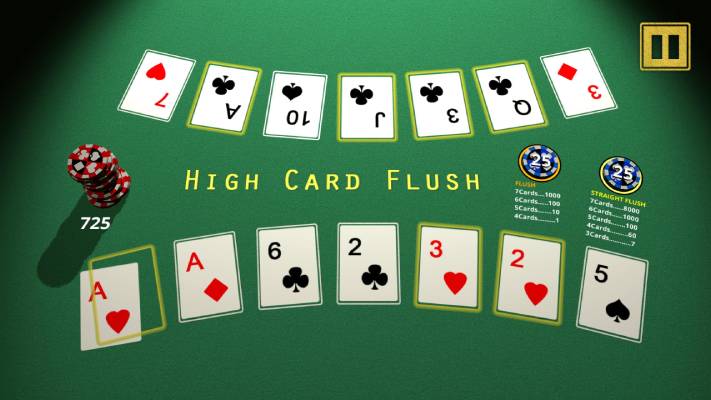 After you've placed your wagers, click the Deal button to receive your cards. Each of you and the dealer will be dealt seven cards. The game will sort out any flush hands for you and give you the finest hand available. The number of cards in your flush is more crucial than the flush's rank in this game. The diamond flush, for example, is obtained by making an A-K-3 of clubs and a Q-8-4-2 of diamonds. You'll earn the higher-ranked flush if you get two flushes with the same amount of cards.
After you've sorted your flush, you'll have to choose whether to Fold or Raise, which is the only decision you'll have to make throughout the game. When you fold, the hand is over. When you Raise, you will bet the same amount as the ante. If you get a five-card flush or greater, you have an exception. After that, you can Raise 2x.
Your hand is compared to the dealer's after you raise, and rewards are given. Let's have a look at the payments.
Payments Made By Hand
The dealer, like in Three Card Poker, must qualify for both the Ante and the Raise in order to be paid. You will win 1 to 1 on the Ante and the Raise if the dealer fails to qualify. You will win 1 to 1 on both bets if the dealer qualifies and your hand is superior.
The amount of cards in your flush is once again the most important factor. You still win if you have a four-card flush and the dealer has a three-card royal flush. However, if both of your flushes contain the same amount of cards, the highest-ranking hand wins. We suggest you try out real money pokies in Yoju Casino, here are 5 reasons why you should play at Yoju Casino.
Payouts On Side Bets
You can place two optional side bets, as we discussed earlier. Both bets pay regardless of the outcome of the main hand. The Flush side bet pays out if you hold a four-card flush or better. The following are the payouts:
7 Card – 300 to 1
6 Card – 100 to 1
5 Card – 10 to 1
4 Card – 1 to 1
The most common way to win this bet is with a four-card flush. The RTP for this bet is 92.19 percent, with a house edge of 7.81 percent.
If you hit the Straight Flush side bet, you'll win a lot of money. The following are the payouts:
7 Card – 8,000 to 1
6 Card – 1,000 to 1
5 Card – 100 to 1
4 Card – 60 to 1
3 Card – 7 to 1
The house edge on this wager is insanely high at 13.11 percent. During my testing, I tested this bet and failed to hit it once. I won numerous times on the Flush bet, which is to be anticipated given the RTP.
Looking for more interesting card games? Check out Three Card Rummy.
Basic Strategy For High Card Flush
The strategy for this game is rather straightforward. To qualify, the dealer must have a nine-high three-card flush. As a result, to raise, you must have a 10-high three-card flush or better. While the RTP on the base game is 97.29 percent, the house edge is 2.71 percent. While this is more than Three Card Poker, it is still better than many online casino games.