How Do Casinos in Las Vegas Make Money?
How do casinos in Vegas make money?
Isn't the solution self-evident? Gambling. Last week, I even lost $200 at the craps table. The casinos in Vegas are grandiose palaces. People who get a joy out of feeding machines and chasing royal flushes fund those mansions.
But what about all the "outsider" activities? Dining, nightclubs, hotels, shows, shops, and so on. Are they just a gimmick to lure us in the door as a loss leader, or do they also help the casino's bottom line? I went into MGM Resorts' 2016 financial report to find an answer to the question.
MGM owns the MGM Grand, Luxor, Bellagio, Excalibur, Circus Circus, Monte Carlo, New York New York, Mirage, and Mandalay Bay, among other properties in Las Vegas. Although the accounting I'm looking at includes some non-Vegas properties, it still gives me a good picture of revenue and profitability.
Must Read: Circa is now open for business
The table below shows MGM's revenue per category, or, to put it another way, what customers spent per activity before MGM deducted expenses.
After paying out players, the casino's revenue is defined as what it "win" throughout the course of the year. "Other Income" would be defined as revenue derived from sources other than MGM's core business (Example: Rented out excess warehouse space not being used to another, unrelated, organization).
Category Revenues: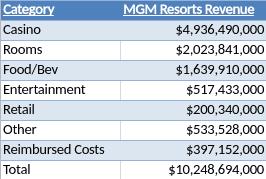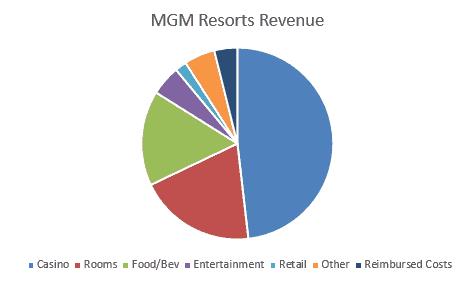 When it comes to MGM's revenue, it's no secret that the casino is king, accounting for 48 percent of total revenue. Hotel rooms and food/beverage are the company's second and third largest income drivers, respectively accounting for 20% and 16% of sales in 2016.
You can get a beautiful, uncomplicated, high-level snapshot of what the casino makes from each category by taking the revenue per category and subtracting the expenses incurred.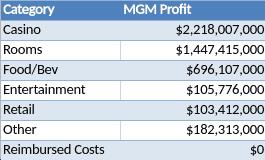 Despite the fact that other categories contribute to MGM's bottom line, the Casino still makes nearly as much money as the rest of the categories combined, with $2.2 billion in net profit compared to $2.5 billion in net profit from room sales, entertainment, food/beverage, and "other" combined.
Additional expenses that aren't directly attributable to one of the revenue categories above, such as corporate expenses ($313 million in 2016), administrative expenses ($1.4 billion in 2016), and so on, eat into MGM's bottom line, but the information above should give you a good idea of where Las Vegas casino revenue and profits come from. What is evident is that, while gaming revenue is significant, it is not the only game in town.
Must Read: Find Free Parking on the Las Vegas Strip?
Because MGM Resorts' hotels have the second-highest profitability and revenue, I thought it would be interesting to see which of their Las Vegas locations had the highest rates and occupancy.
There are three key terms to understand:
The percentage of rooms that were filled is known as the occupancy rate.

ADR – Average Daily Rate – How much did people pay per night on average?

REVPAR stands for Revenue per Available Room and is the average nightly revenue per available room (whether occupied or not). In a nutshell, it's your nightly hotel earnings divided by the total number of rooms.
Bellagio topped MGM's records for Average Daily Rate in 2016, with a $278 average. Bellagio was likewise 91 percent full, with a $246 per night revenue per available room.
Circus Circus had the lowest ADR, at $83 per night, and was 81.6 percent filled. The revenue per available room at CC Las Vegas was $68.
With an ADR of $141, New York-New York had the highest occupancy of MGM's casino/hotel portfolio, at 95.1 percent.
It's critical to hold gamblers captive overnight, according to the UNLV Center for Gaming Research, since in 2016, guests generated the following average daily income per room (all Vegas casinos, not just MGM):
$96.48 in revenue from the pit
$105.83 in slot revenue
$98.11 in food sales
$43.73 in beverage sales
In conclusion, it is evident that casino revenues are king in Las Vegas, but other significant drivers of resort profitability include entertainment options, eating, and the hotel. As Millenials shun gambling in favour of "experiences," these ancillary services are becoming increasingly essential to the bottom line. More hotels are getting innovative with revenue generators, which is understandable. At the MGM Grand, for example, you can now hunt zombies in Virtual Reality or play Twilight Zone Mini Golf at Bally's. In Vegas, it's also impossible to walk 15 feet without stumbling over a zipline attraction.
Although gambling will continue to be the mainstay, there is a clear trend in Vegas toward new and inventive food and entertainment alternatives.
Last but not least, MGM had a "Outstanding Chip Liability" of about $227 million as of the end of 2016. Who among you is hogging all of the chips? Cash those scumbags in!