What Casino Game Has The Best Odds?
What's up rollers,
In this blog, I will try to explain what casino games have the best odds, and why. At the same time, I'll talk about what casino games offer the worst odds for players or have the highest house edge depending on how you look at it. But my punchline is this:
The more you play, the more house edge will work against your favor.
House edge and time are your worst enemies when attempting to make it rain. The more you bet, the more you'll lose – simple as that. No matter the website, table, wheel, or odds in general. In theory, the best thing you can probably do is place one huge bet and walk away rather than play for hours by placing one small wager after another.
So, Which Casino Games Have The Best Odds?
A lot of people think of poker when discussing the best odds and skill, but in reality, blackjack takes the crown. Yes, it's blackjack, and not poker, that carries a house edge of below 0,5 to 2 percent, making it the game with the best odds of winning in any casino. A house edge with a percentage of 2 means that, on average, you will lose $2 on every $100 you wager. Not too shabby, right?
Can your skills affect the house edge?
Of course, they do! Players with a sick set of skills and a keen eye can further decrease the house edge. This may explain why table games such as blackjack, poker, and roulette are tremendously popular in Vegas.
On the other hand, casino games like slots, keno, and lottery games often attract rookies. Little to no skill required, amirite? So it's not a coincidence that those games have some of the worst odds in the gambling industry.
In the article below, you can read all about bets and payout odds in some of the most popular online casino games in the world. Honestly, it's not so much about winning an enormous amount of money, but rather keeping your bankroll safe so you could possibly score big at some point in your life.
Blackjack: What Is French For 21?
If winning cash is what you are gunning for the most, I repeat, blackjack games have the best odds. Period. Unlike poker, you're not betting against master bluffers. You're betting against a dealer instead. All you have to do is get a number that beats the dealer's number without going bust (having cards that go over 21 in value).
Don't go over 21 – simple as that!
Each face card or card with an image is worth 10. Aces are worth 1 or 11, whichever suits the players best. Finally, the number cards count as their number. The house edge in blackjack is primarily based on the fact that players are dealt cards before the dealer. They could potentially be the first to lose, no matter if the dealer goes bust in the same round as well.
Feel free to read our blog on how to play blackjack, and put some know-how in your game, especially if you hope to win money big time.
Craps: Never Say 7 At The Table Before The Come Out Roll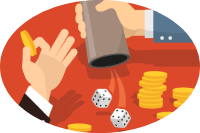 This game is another good example of how high and low odds function in the gambling business. Next to blackjack, the game of craps is your best option in terms of gambling percentages working in your favor. If all you want is to win money, and you're feeling lucky enough, place your bets on the pass line bet / come bet (house edge 1,41%), or don't pass bet / don't come bet (1,36%) before rolling.
With the push probability out of the way, your chance to win is 49,29% and 47,93% respectively, making craps one of the best table games for lowering the house edge.
What are your chances of winning at craps?
Before you start to play a game of craps and roll those dice, it's good to know that there is a 22,22% chance of rolling a natural (7 or 11), an 11,12% chance of crapping out (2, 3, and 12), and a 66,66% chance of rolling a point number.
If you still search for the optimal approach in the game of craps, do yourself a favor and read our dedicated blog section on how to play craps.
Roulette: July's The Most Superstitious Month To Play It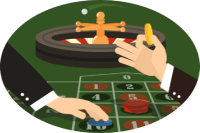 If roulette is your ultimate Vegas dream, go for the European and French one, not the American. The latter has a roulette wheel with two green pockets – one for zero and another for a double zero. This lowers your odds of winning dramatically with every spin of the wheel. If a ball lands on a green pocket, a player will most likely lose his bet.
The European roulette has a house edge of 2,70%, and your best chance is 48,64% if you bet on red/black, odd/even, or high or low numbers.
What are the odds of winning at roulette?
Your odds of winning will fall drastically in American roulette, with a house edge of 5,26%, and your best payout percentage of only 64,37%. It's good to know how much a single pocket with a double zero can impact your bets and game strategies. After all, what would be the point of playing if the ball keeps landing in the wrong pocket every time?
If you want to know more about roulette and increase the percentage of your maximum possible payout, check out our blog dedicated to roulette casino games.
Regular Questions About Casino Games
What casino game has the best odds to win?
Blackjack is by far the best game to go for if odds are all that matters. This game and its variants have the lowest house edge and the best odds in the gambling industry. Table games in general, including roulette (with the exception of American roulette), are games with the best odds and your safest bet in both online casinos and those made of brick and mortar.
What has the worst odds in a casino?
Slot machines, keno, most wheel games, and every lottery adaptation are the games with the worst odds in most casinos. The house advantage is the biggest in these games and playing them offers the worst probabilities for a player. And don't let those juicy online casinos with sign up bonus fool ya. It can get tricky to meet the wagering requirements on top of the unfavorable odds.
Card games tend to have better odds or lower house edge. A roulette wheel, dice games like craps, and playing a Wheel of Fortune might do you justice as well.
What is the only mathematically beatable game in a casino?
There is no such thing as a 'beatable game' in a casino. In the long run, every single casino game has a payout percentage and odds working against us, the players. Instead of thinking about 'beatable games', you should focus on games with the best odds of winning and a low house edge.
Is there a way to tell if a slot machine is going to hit?
Yes, if you are a wizard, a prophet, or a tech savant who can poke around casino slots in the open. Joking aside, there are a lot of myths about slot machines – and being able to spot slots that are about to hit a jackpot is definitely up there.
Chances of winning big money on slots are totally random because slots run on random number generators and that is required by the law. The size of your bet, the number of spins, your skill, betting style, type of play and time of visit makes no difference and will have zero effect on your chance of winning. OK, maybe a few free spin casino slot bonuses can give you a leg up, but you can't fight the RNG.
What is the best day of the week to go to the casino?
There are a lot of 'rules' and 'strategies' made up by casino players from around the world who claim to know the 'truth'. One of them is that the best day to play casino games is on Friday from 6 PM to 10 PM, which is obviously another Vegas myth.
The truth is, your odds and house edge do not change during the week. The only things that matter are casino promotions, and if you see yourself having fun at a crowded table. Your best strategy is to play casino games when a particular casino offers cool promotions, or on days and hours when you feel most comfortable playing cards or dice.
This is how you can measurably improve your chance of winning and lower the house edge. If your odds of winning rely on counting cards, then it's wise to search for a crowded casino, usually during weekend nights.
Is counting cards illegal?
Counting cards is not illegal, but private casinos do not appreciate it, to say the least. The best way to avoid being detected by a dealer is to wager bets and play games during casino rush hours.
Games With The Best Odds Of Winning: Summary
Let's get one thing straight – online casinos want you to lose. But it's a David vs Goliath kind of struggle. Things are not so hopeless if you know how to fling those rocks. Although quite popular, the Wheel of Fortune is highly unlikely to make you rich, or even a good gambler. In fact, Wheel of Fortune has a return to player percentage of around 95% to 96% – just like innumerable slot machines that are widely regarded as the games with the worst odds in the gambling industry.
Alongside keno, online slots and lottery games have the highest house edge in the business for obvious reasons. If keeping your bankroll safe is a priority, I'd suggest toning it down with playing these games.
However, blackjack, craps, and roulette can serve you well if you know your way around. These games have the lowest house edge, by far. While they may not be able to make you a rich man overnight, at least your bankroll will be thankful.
Roll 'em high!