Interview With Srdjan Kapor – Bitstarz's Affiliate Go-To Guy
There are many important faces in the gambling industry, but there's one cat that's got the ins and outs of the affiliate game wrapped around his little finger. His name is Srdjan Kapor and we simply had to tug his sleeve and ask him a few burning questions. No doubt the online casino world depends on affiliates directing players to their websites, so let's hear it from the man himself how he makes it rain!
The Interview
BROS: Sup, Srdjan! 👋  First things first, tell us a bit about yourself, Bro. Heard you are something of a digital nomad. How did you wind up in the world of Bitcoins? What was that journey like? 
SRDJAN: Hi, Bros! Oh man, I'm a bit bad at this, I have to confess.
BROS: Ha! Don't sell yourself short, Bro. 🤣
SRDJAN: So, I'm from Serbia and have been working in the industry for as long as I can remember. You're absolutely right about the digital nomad part. All of us at BitStarz work remotely full-time, so this Covid-19 thing didn't really change much for us (haha). Even though I have the opportunity to live the Digital Nomad lifestyle, I also have a wife and two kids, so right now there's not much traveling going on.
As for Bitcoin, I gotta confess I just fell into it. I had been working in the casino industry for a long time and got offered a position as an affiliate manager for BitStarz. I knew very little about Crypto in general but I've learned a lot over the past few years I've been here.
BROS: Although its popularity is increasing, especially in online casinos, the concept of bitcoins is still rather vague to lots of people. Can you explain how cryptocurrencies came about and what are their advantages compared to your regular currencies? 🤔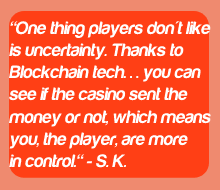 SRDJAN: Absolutely! I think that's a great question and you're highlighting something very important here.
For many, Bitcoin and Crypto is very abstract, and when people hear about it, they focus more on the fluctuation of the value of Bitcoin and Altcoins as opposed to what the currency is actually good for. A big part of our job is to educate our players and potential players what the advantages of crypto are.
The main ones would be cutting out the middleman, so you have full control over your funds. There's no bank or financial institution that could prevent you from making deposits and withdrawals, and there are also no crazy fees. Some banks are also not happy with people gambling, so if they see gambling transactions on your statement, it can prevent you from getting a mortgage, so using crypto will bypass that for sure.
The withdrawals and deposits are almost instant, too. Sure, when you use your credit card to make deposits in a casino, they show up right away, although it normally takes 1-3 banking days to get a withdrawal. With Bitcoin, it's virtually instant.
Also, here's my favorite bit. One thing players don't like is uncertainty. They want to know where their funds are. Thanks to Blockchain tech, seeing all transactions publicly is made possible. Put another way: you can keep track of your money. You can see if the casino sent the money or not, which means you, the player, are more in control.
BROS: Sadly, it seems that very few people are eager to jump on that bandwagon for a myriad of reasons. Why is that? What do you think are the misconceptions about Bitcoin?
SRDJAN: People have always feared change, so it's a natural response in a way. I think that the most important thing is education. We fear what we don't understand, and providing information and teaching players what the benefits are – I think that could help a great deal.
First of all, I think the name itself does very little to help. Cryptocurrency doesn't sound that sexy to an average person's ears. In fact, it kind of gives off a scary and murky vibe. It also got a bad rep due to it being used in dodgy places, such as Silk Road and other underground marketplaces.
This means it's widely associated with anonymity and the preferred currency of criminals and those who wish to remain anonymous. But what people fail to understand is that it's basically digital cash. So if they wish to brand Bitcoin and other Altcoins as anonymous (or pseudo-anonymous) maybe they should draw more parallels to cold hard cash.
BROS: And what about you, Bro? Are you into using Bitcoin? 
SRDJAN: I am actually. With that said, I don't use it on a regular basis in the sense that I use it to buy things. Instead, I tend to accumulate and HODL Bitcoin. Basically, I buy when the price is right and I like to hold on to them. I'm a firm believer that Bitcoin will go to the moon at some point.
BROS: Walk us through BitStarz, the current company you're working at. How's the weather there? And considering that you are constantly on the move, do you miss working in an office surrounded by familiar faces?
SRDJAN: Interestingly enough, none of us work from the office. We do have a nice one in Malta, but all you'll find is a dying plant. Joking aside, it's a very nice office but we all enjoy the nomad lifestyle and we don't see that changing anytime soon. 😉
It's kind of funny, but there are many people in the company I haven't even met yet, although we do have yearly get-togethers and we receive a generous travel allowance that we can use to hold mini-workshops in exotic locations. As an example, we all rented a 10 bedroom house in Bali to work there for 10 days.
BROS: Our Bro Collective is neck-deep in online gambling – and we love it! Are you into online casinos yourself? Do you make it rain? Got any favorite games?
SRDJAN: I do like to have a few spins on the game sometimes, haha. Not that much though as I associate gambling and casinos with work. So in other words, I tend to do other things when I have time off. 🙂
I do prefer the highly volatile games though, I would say The Wish Master from Netent is a clear favorite of mine. Very underrated.
BROS: What do you think the future has in store for the casino industry? Where do you see yourself in 5 years, Bro? 🔮
SRDJAN: Crypto will dominate! Haha! Well, as for the casino industry, I think a lot will depend on regulation. We see many casinos going under due to the various market regulations that make survival all the more difficult.
In the golden days of gambling about 10 years ago, it was impossible to fail if you opened a casino. But with various regulations in place now, it makes it harder for many casinos to thrive. I think we're gonna see a few big casinos make it, but there will be a lot of casinos that will go under.
It's very hard to give up this lifestyle so I don't see myself moving from BitStarz. It's a great place to be with great people. Also, when you've been remote for as long as I have, it's kind of hard to imagine being in an office again (haha).

⚡⚡⚡ Lighting round! ⚡⚡⚡
Ronaldo or Messi?
SRDJAN: Messi, for sure. Both are great players but Messi is more of a humble and down-to-earth kind of guy. He's not flashy and comes across as a nice dude. A friend of mine actually met him in an airport once and he told me he was a great guy to chat with. So I'm going Messi all the way.
Freddie Mercury or Elton John?
SRDJAN: Freddy, without a doubt. Not the biggest Queen fan but you can't deny what they've done for the music industry. The vocal range of Freddy Mercury is absolutely amazing.
Harry Potter or Lord of the Rings?
SRDJAN: I do like both, so this is hard. Even though I do love Emma Watson I'm gonna go with Lord of the Rings because I'm a big fan of Peter Jackson's old splatter movies. I have no clue how he got to direct that movie based on his old stuff, but he did a great job.
BROS: Thanks for taking the time to have this interview with us. 💪 Always a pleasure to kick it with the cool cats in the industry. Got any words of wisdom to share for our high rollers before we wrap this up?
SRDJAN: Hey, the pleasure was all mine. Thanks for having me! Well, when you come to BitStarz you'll enjoy a 100% match bonus up to 1 BTC (between $40,000 and $50,000 right now), so I don't know of any other casino offering that kind of bonus. On top of that, you'll also get 200 free spins (20 for signing up).
We have no limits on deposits and withdrawals, so if you win 10 million today and want to cash it all out right away, we'll do that for you. No restrictions. You'll also enjoy fast withdrawals. All cash outs are processed in 10 minutes on average, which we are extremely proud of. You're also able to get custom cashback deals and tailored bonus plans as a VIP player, so there are many reasons to switch to us. 🙂
Bros, it's been great, thank you once more for chatting with me, and hope you guys have a great day! 🙌