The Strip and Downtown Las Vegas's Newest Resorts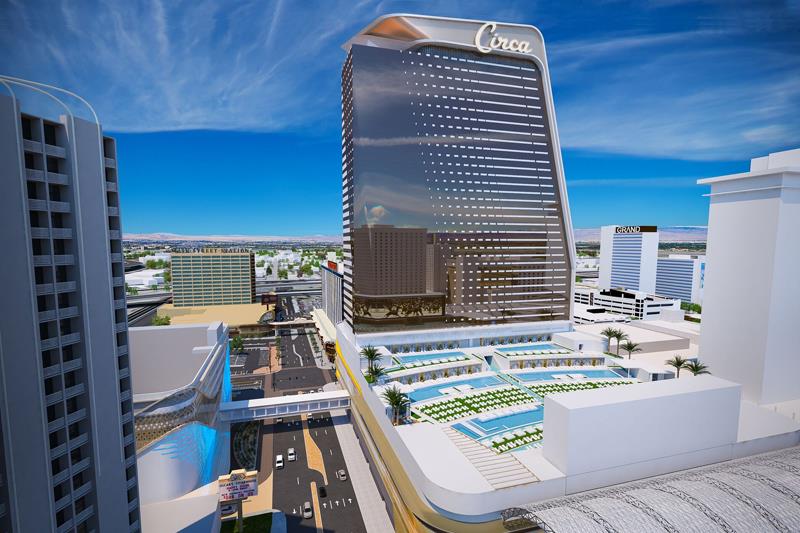 The status quo in Las Vegas is continually being reinvented, and it never becomes stagnant. In Vegas, resorts have a notoriously short existence, regularly imploding and re-emerging as new, re-imagined mega-resorts. Even legendary hotels like the Tropicana, Flamingo, and Caesars Palace have experienced tremendous expansion and renovation over the years, almost as if everyone is vying for the title of newest resort in Las Vegas.
Several new resort developments stalled as a result of the 2008 financial crisis, leaving the skeletons of what may have been to rot in the desert sun. Fontainebleau, Echelon, and Alon are all names that sparked interest in the past but never came to fruition or were abandoned before completion.
Fortunately, a number of new Las Vegas casino projects are in the works or have already opened, providing travellers with exciting new resorts to visit. We'll take a look at the newest casinos and hotels in Las Vegas that have recently opened or are set to open shortly.
Must Check: Smoke Free Casinos In Vegas
Resorts in Las Vegas that have just been completed
The resorts listed here have recently opened for business on the Strip, Fremont Street, and just off the Strip and are eager to welcome you.
Las Vegas' Resorts World
Resorts World, the newest resort in Las Vegas, opened on June 24, 2021, immediately south of Circus Circus and across the street from Encore.
The $4.3 billion resort has 3,500 accommodations, a 5,000-seat theatre, 110,000 square feet of casino space, and 270,000 square feet of restaurants and shopping space.
While the casino takes cash, customers can use the Resorts World Phone App to go fully cashless if they wish. Your phone can be used to fund everything from slot machines and table games to retail and restaurant purchases.
Resorts World's Famous Foods Street Eats food hall, which features a wide variety of cuisine from around the world as well as a speakeasy bar, drew a lot of attention on opening night.
The rooftop pool deck at Resorts World Las Vegas features seven different pool experiences with views of the Strip to the south.
Resorts World has also incorporated a massive 100,000 square foot LED screen inside the hotel's west hotel tower in the spirit of going large. Advertising, broadcasting sporting events, and greeting VIPs have all been done on the screen.
We're excited to see how this new resort project will breathe fresh life into the stale north end of the Las Vegas Strip.
Circa Las Vegas is a circus in Las Vegas, Nevada.
Circa, the first new construction resort in downtown Las Vegas in decades, has upended the Fremont Street landscape. Circa is already wowing with unique, differentiated characteristics, as it sits on the footprint of the historic Las Vegas Club, Mermaids, and the Glitter Gulch gentlemen's club.
Circa is notable for having a two-level casino with over 1,300 slot machines and 55 table games. The sportsbook screen, which stands three floors tall and has 78 million pixels, is the crown gem of the gambling floor. The world's largest, the screen is nearly omnipresent as you explore the casino's two levels.
The resort's rooftop pool deck, Stadium Swim, features six pools, two swim-up bars, and a 125-foot TV screen. Poolside, there are also table games.
The newly rebuilt Vegas Vickie (who originally sat over Glitter Gulch) has also been prominently included in the new resort by Circa.
Circa is the first Las Vegas casino to offer a dedicated rideshare pickup station in its parking garage, branded "Garage Mahal," in response to changing transportation trends.
Circa is also an adults-only establishment. You read that correctly: only patrons aged 21 and up will be admitted.
Virgin Vegas is a casino in Las Vegas, Nevada.
The Hard Rock Hotel and Casino was purchased by Richard Branson and his associates, and the facility was turned into the Virgin Hotels brand.
The resort has a 60,000-square-foot casino, 1,504 hotel rooms, and more than 110,000 square feet of meeting space. The Virgin Hotel and Casino Las Vegas, which debuted on March 25th, 2021, is now open for business.
New Resorts That Are Still Under Construction
The following Las Vegas resort projects are in various phases of development, ranging from concept art to nearly completed construction. Of fact, the completion of a planned resort complex is never guaranteed. It's rare that getting overly connected to a concept is a good idea until significant progress is made.
Las Vegas' Fontainebleau
The empty, partially built resort, which has sat watch over the Strip for more than a decade and barely counts as a "new" enterprise, is an eyesore left over from the Great Recession. The blue behemoth was originally set to open as Fontainebleau Las Vegas in 2009, immediately north of the former Riviera property and across the street from Circus Circus. Unfortunately, because of the 2008 financial crisis, funding dried up, bringing development to a halt.
Carl Icahn stepped up during the Great Recession and bought the stalled Fontainebleau project for a pittance of $148 million, liquidated the furniture, and sat on the site waiting for better times.
In 2017, the stalled resort project was purchased for $600 million by The Witkoff Group from Carl Ichan. The project was dubbed "The Drew" after Witkoff's late son.
Witkoff sold the unfinished property to Koch Real Estate Investments in collaboration with Fontainebleau Development in 2021, and the resort changed hands once more. Fontainebleau Development was engaged in the original concept, so the project has come full circle. This resort project is now known as Fontainebleau Las Vegas, for those keeping up at home. Will the second attempt be the one to get traction?
On November 9th, 2021, a groundbreaking ceremony was held with many famous people in attendance, including Governor Sisolak. While there was little new information given, the property's intention to open in Q4 of 2023 was announced in a subsequent press release. In the press release, they also asserted that the structure is in "Mint condition" and that construction has already begun.
Fontainebleau will include 3,700 rooms, 550,000 square feet of convention space, a rooftop pool deck, and a casino if it is built. There hasn't been much information released about how the reimagined project would look under Koch Real Estate Investments, but design renderings should start appearing soon.
We're starting to sense a dangerous sensation as this initiative hits problem after hurdle.
We're hoping that the completion of the Las Vegas Convention Center expansion and the adjoining Resorts World project would grease the wheels and help us get this project completed.
Hotels by Atari Las Vegas is popular tourist destination.
GSD Group Partners and Gensler, an architecture firm, revealed their intention to bring an Atari-branded facility to Las Vegas in the fall of 2020, at a yet-to-be-determined location. The hotel's video game console-themed attractions will include esports, virtual reality, and other "immersive" experiences in addition to standard hotel amenities like bars, restaurants, and a rooftop pool. The project is still scheduled to open in 2022, according to Gensler's website, although there have been little updates and development since the original announcement.
Must Check: 15 Casinos in Las Vegas
Las Vegas Dream Hotels
Dream Hotels Las Vegas intends to construct on an empty plot of property on the Strip's south end, near to the Pinball Hall of Fame and a short distance from the "Welcome to Fabulous Las Vegas" sign. In addition to dining, drinking, and nightlife options, Dream promises to offer a casino, 450 accommodations, 12,000 square feet of meeting space, and a spa. Construction was supposed to start in early 2021 for a 2023 opening, but the project has yet to get off the ground.
Durango
Durango Station Casinos plans to open a new casino site southwest of the Stip in 2022, focusing on the local market. The new resort will have an 83,000-square-foot casino, meeting space, and a hotel with more than 200 rooms. Four sit-down restaurants will be available, as well as a food hall with fast-casual alternatives. Durango is expected to open in 2023, according to current forecasts. Here's where you can keep up with the project. A couple renderings of the property that were recently tweeted are shown below.
Although the recent debuts of Circa, Virgin, and Resorts World have us cautiously optimistic that the future is bright, resort projects in Las Vegas have a history of going broke and stagnating for an extended length of time.