What's up rollers,
Welcome to my Rich Palms Casino review, a place where truth mops floors with biases of all origins. Players from around the world will be pleased to hear that we have a new casino in town – Rich Palms!
Is it any good, you might wonder?
Yes, I must say it is. On the other hand, my dear old granny made me a woman hard to impress and even harder to fool. So, like any other thing in the cosmos, Rich Palms Casino has its virtues and flaws, and I intend to shake them all down before you.
Let's begin, bros and broettes.
Casino Review Details
This is a fairly new online casino, vastly known for its almost supernatural ability to allow entrance to the Americans. It's a joke, I know, but players from the United Kingdom are welcome as well, which has its own ups and downs which I will elaborate on a bit later.
It has a gambling license issued by Costa Rica and some of the finest return to player ratios known to men and women.
New players will be glad to know that it features, among other things, Specialty games and a remarkable welcome bonus. It is especially friendly to Bitcoin users and those who revel in gambling on the move.
Casino Features
Mobile Casino
Reality Check Reminder
Vip Program
Time-Out Period
Live Chat
Financial Limits
Gamification
Self Exclusion
Online Transaction History
Help And Support
Self Assessment Test
Manual Flushing
Casino Info

| | |
| --- | --- |
| website: | https://richpalms.com/ |
| email: | support@richpalms.com |
| phone: | +1 855 2798 143 |
| established: | 2020 |
| owner: | - |
| licences: | Curacao |
| languages: | English |
Country Restrictions
Well, this is a bit unusual. Unlike so many other online casinos, Rich Palm Casino has its doors pretty wide open for UK and USA residents. Here is the list of countries restricted at Rich Palms Casino:
Afghanistan, Armenia, Azerbaijan, Bangladesh, Belarus, Bhutan, Bulgaria, China, Costa Rica, Croatia, Curacao, Estonia, Guam, Hungary, India, Iran, Iraq, Israel, Kazakhstan, Kyrgyzstan, Malaysia, Netherlands Antilles, Pakistan, Poland, Romania, Russia, Serbia, Syria, Ukraine, Vietnam.
Rich Palms Casino Bonuses
Welcome Bonus
---
1st Deposit 250%/$2,500+100% Cashback
WR
30x(D+B)
Min. Dep.
$25
Other Bonus
---
2nd Deposit 275%/$2,750+100% Cashback
WR
30x(D+B)
Min. Dep.
$25
Other Bonus
---
3rd Deposit 300%/$3,000 Slots Bonus+50% Cashback
WR
30x(D+B)
Min. Dep.
$25
Other Bonus
---
Treasures Tour 150% Slot Bonus+40 FS
WR
30x(D+B)
Min. Dep.
$25
Other Bonus
---
Asgard Tour 250% Slot Bonus
WR
30x(B)
Min. Dep.
$25
Other Bonus
---
Bubble Chill up to 170% Slots Bonus+30FS
WR
30x(D+B)
Min. Dep.
$99
Other Bonus
---
Witchy Tour 140% Slots Bonus+30FS
WR
30x(D+B)
Min. Dep.
$25
Other Bonus
---
Storm Ride 190% Slots Bonus+30FS
WR
30x(D+B)
Min. Dep.
$150
Other Bonus
---
Wishes Tour 190% Slots Bonus
WR
30x(B)
Min. Dep.
$150
No Deposit Bonus
---
No Deposit Bonus $25 Free Chip
WR
50x(B)
Min. Dep.
n/a
Welcome Bonus
Okay boys and girls, buckle up!
Casino Rich Palms made sure to offer us some really cool welcome bonuses. Granted, the hefty wagering requirements somewhat diminish the first-time astonishment, but this is the reality of online casinos these days.
So, welcome bonuses are very good, spread through the first three deposits, attractive, and placed all over the gambling table – fit for every bro and broette. Let's check them out, shall we:
First Deposit Bonus: 250% up to $2,500 + 100% Cashback. The wagering requirement is 30x, and the maximum cashout is 20x of deposit.
Second Deposit Bonus: 275% up to $2,750 + 100% Cashback. The wagering requirement is 30x, and the maximum cashout is 20x of deposit.
Third Deposit Bonus: 300% up to $3,000 + 50% Cashback. The wagering requirement is 30x, and the maximum cashout is 20x of deposit.
At the risk of sounding like a broken record, I will still advise you to look super carefully at the Terms and Conditions regarding these bonuses. Wagering requirements still apply on the first three deposits and special bonuses.
Other Bonuses
Slots bonus and voluptuous welcome bonus are not the only things worth mentioning in the bonuses department. Unlike so many online casinos, new players and veterans can venture on exciting Daily Tours at Rich Palm Casino, all of which are described below:
Treasures Tour: Valid on Mondays, 150% Slots Bonus + 40 Free Spins (FS)
Asgard Tour: Valid on Tuesdays, 250% Slots Bonus
Bubble Chill: Valid on Wednesdays, Up to 170% Slots Bonus + 30 FS
Witchy Tour: On Saturdays only, 140% Slots Bonus + 30 FS
Storm Ride: Valid on Fridays, Up to 190% Slots Bonus + 30 FS
Scuba Fishing: On Saturdays only, Up to 190% Slots Bonus
Wishes Tour: Valid on Saturdays, Up to 190% Slots Bonus + 50 FS
Jungle Safari: On Sundays only, 250% Slots Bonus + 25 FS
VIP Program
So folks at Rich Palms Casino decided to draw us in with this Rich Palms Club they've come up with. It's just a fancy name for Comp Points, which is perfect for a crowd that has too much money and free time on their hands if you ask me.
Advertised as a "luxury experience", Rich Palms Club offers some nice benefits to players. Here's what they offer:
Faster Withdrawals
24/7 Account Manager
Personal Bonus Program
Loyalty Bonuses
No Max Cashout Cashback
If you decide to take this "journey", as they call it, there are six steps to the end of it.
Black Card: $100 Loyalty Bonus, Daily cashback, Weekly cashback, B-day bonuses, Comp points: 18:1
Silver Card: $150 Loyalty Bonus, Daily cashback, Weekly cashback, B-day bonuses, Comp points: 16:1
Golden Card: $250 Loyalty Bonus, Daily cashback, Weekly cashback, B-day bonuses, Comp points: 14:1
Platinum Card: $500 Loyalty Bonus, Daily cashback, Weekly cashback, Monthly cashback, B-day bonuses, Comp points: 12:1
Diamond Card: $750 Loyalty Bonus, Daily cashback, Weekly cashback, Monthly cashback, Real money bonus, B-day bonuses, Comp points: 11:1
Millionaire Card: $1K Loyalty Bonus, Daily cashback, Weekly cashback, Monthly cashback, Real money bonus, B-day bonuses, Comp points: 10:1
Free Spins
This is my turf. This is where I rule. I AM the slot queen, or junkie, depending on who's asking. And free spins is something that Rich Palms Casino handles like a charm.
Wagering requirements aside, free spins awards at this casino are superb! Period.
They come in vast variety and quite often. If it wasn't for the overwhelmingly terrible thing called "slots itself" this would truly be one of my dream casinos.
You can clearly see above what I mean when I say "superb" free spins. Now, read further below to the slots section of this review and find out why slots themselves are beyond and above crap.
Rich Palms Casino Games
There comes a moment in every girl's life when you just have to let it go. No, this is not a Frozen commercial. For me, this is a deeply treasured instance when a girl drops a T-bomb for the sake of mankind.
My recently established award, the Plutonium Lilly, designed to emphasize a catastrophic underachievement of an online casino in a specific segment, this time goes to the online casino Rich Palms.
They won the Plutonium Lilly in the "Poorest selection of game developers" category.
Now, don't get me wrong, I have almost nothing against Visionary iGaming and Realtime Gaming. They are renowned, well-established software developers. But just the two of them? In a world so rich and versatile?!
And yes, I am well aware that this is the reason why Americans and Brits are allowed at Rich Palms Casino in the first place. But, I'll rephrase my angry statement: Just two frickin' game developers?!
This is unacceptable and well worthy of the Plutonium Lilly award.
Have you seen what those games look like? How do they sound? Have you felt the jaw-dropping, heart-stopping, and tissue dissolving effects of playing, let's say, Sevens and Stripes?
It's a disaster. My father is a late 50's boomer, and even he thinks that the overall design sucks to the moon and back. Sorry bros and broettes, two-game providers of this kind and style will never grow on me, no matter how fair and mathematically savvy their games are designed.
God, it still hurts my eyes. And ears. Soul as well. This had to be said if I plan to dish out an honest Rich Palms Casino review.
On another topic, there is no sports betting and virtual sports at Rich Palms Casino, which is a huge plus for me (I can't stand that crowd, a story for another time…), but I do understand that the lack of those games might turn away some players.
Another thing, though, they do offer some nice specialty games, which are fun and refreshing.
Slot Games
This is so hard for me to do…
It's hard to find a casino that will grant its players generous slot bonuses as Rich Palms does. But, and this is a colossal BUT…
Only two software providers mean that the slots will, well, be suckish, to say the least.
Yes, there's a whole bunch of slots and yes, the return to player percentage is cool. But boy, I felt like I was in a time machine. Going backward, when slots were the marvel of engineering.
Maybe there is a dude or a gal who will like them but I seriously doubt that. Simply put, slots are below the industry's standard, vicious on both the eyes and the ears.
Video poker slot games are a nice thing to see, but they suffer from the same disease, called "lack of technological versatility". Slots are meant to be fun, crazy, over the top, and by all means diverse in their content and execution.
But heck, I know that video poker is all about RTP, and far less about graphics. So, thumbs up for the video poker section, I guess…
One thing I really like about slots is the Specialty games segment. I had an awesome time playing Banana Jones, a perfectly self-aware and ridiculous combo with a cross-breed of a pig and a monkey jumping around and collecting prizes.
In all sincerity, specialty games should be mandatory.
So there you have it, a gold medal for Specialty games, and one Plutonium Lilly for slots.
Table Games
What's there to say about table games at Rich Palms Casino?
The table games are good, plentiful, fair, and fun to play – if players can handle the heavy-handed atrocity on the human senses, that is. Some of the most notable table games are:
Caribbean Hold' em Poker, Pai Gow Poker, Stud Poker, Baccarat, Blackjack, Caribbean Draw Poker, Caribbean Stud Poker, European Roulette, European Blackjack, Texas Hold' em Bonus Poker, Tri Card Poker
Jackpot Games
If this poor girl was a member of some sort of gambling union, I would ask them to make it illegal for me to write about jackpots. Game after game, all I see is a dizzying amount of money that I will never have. Well…
Joking aside, Rich Palms Casino has awesome jackpot games, and other casinos should look up to them. At the time I was playing them, jackpot games had a huge range of prizes, starting from a couple of thousands of dollars to a whopping two million!
New players will be amazed not only by the sheer force of money involved but the vast variety of games as well. Just make sure to remember: the bigger the jackpot, the bigger your chance to fail spectacularly.
Stay cool bros and broettes, and don't frown upon smaller jackpots.
Live Casino Games
Ah, nothing like the thrill of a live dealer game, available to you at the Live Dealer Lobby of Rich Palms Casino.
Here, you can test your skill and luck at some of the most popular table games in gambling history, accompanied by skilled croupiers.
Nah, who am I kidding, you know the drill. What you really want to find out is do the quality of the video stream and the charm of live dealers follow the high standards set by this particular online casino?
The answer is yes, they do.
If you opt for a live casino excitement, you can count on your traditional weapons of choice: Roulette, Blackjack, Baccarat, all of them offered in different shapes and sizes. And not to mention – rules!
game providers

Mobile
New players, especially those of young age, will be thrilled to know that Rich Palms Casino is a mobile-friendly environment.
No matter what you hold in your hand, an iPhone, an iPad, or some Android operating gadget, you can fully enjoy at Rich Palms Casino, thanks to their excellent mobile optimization.
All of ViG's live casino games are made in HTML5, meaning they can be accessed via any browser you might have installed on your handheld device.
Now, since Rich Palms Casino is primarily visited by the Apple-consuming bunch, if you depend on Windows operating system you will have to download an app in order to play and have fun. It is ready and waiting for you on their landing page.
Sure, things may become tricky if you want to quickly skip from gaming to your bank account, but this is to be expected at all online casinos today. In any other scenario, games run smoothly, there is no pain-inducing lag, and gaming on the go is truly a no-hassle experience.
Rich Palms Casino Payment Methods
deposit methods
withdrawal methods




While I ordinarily like things to be simple, I am not as keen to accept simplicity when it comes to online casinos' deposit and withdrawal methods. Sure, they are bulletproof and easy to use at Rich Palms Casino, but we all love to have as many options as humanly possible.
This is not it. It's not bad, just not sufficient enough for yours truly. Also, different services apply different limits to your deposits, so be aware and check them out thoroughly.
You can deposit your assets via these services:
Visa (Min deposit $25, Max $1,000)
Mastercard (Min deposit $25, Max $1,000)
American Express (Min deposit $25, Max $1,000)
Bitcoin (Min deposit $25, Max $1,000)
Instant Gift Card (Min deposit $25, Max $500)
Neosurf (Min deposit $10, Max $250)
PayID & BPAY (Min $25, Max $1,000)
When the time comes, and you meet all of the requirements stated in the Terms and Conditions section of Rich Palms Casino, you can withdraw your assets using these services. Unlike the withdrawals, limits are set equally, for the time being:
Visa (Min $100, Max $2,000 per week)
Mastercard (Min $100, Max $2,000)
American Express (Min $100, Max $2,000)
Bitcoin (Min $100, Max $2,000)
Bank Wire (Min $100, Max $2,000)
Keep in mind that new players are allowed to withdraw $500, or AU$ 500 per day, or $2,000, or AU$ 2000 within a seven-day period. VIP clients, on the other hand, have the option to review their payment limits with their Account Manager.
All in all, this is not a stellar amount of services you can use, but look at the bright side – they are reliable, safe, and relatively quick.
Limits are kind of meh, but then again, so is my bank account, and they seem tailored to fit my gambling needs. Possibly yours as well.
"But what about that sweet, sweet no max cashout?", I hear you say.
No max cash out is great, in theory, but reserved for high rollers at Rich Palms Club only.
And as always, be super-duper sure that you fulfill wagering requirements before trying to cash in your prizes.
Accepted Currencies
This may be disappointing for some, and awesome for others, but Rich Palms Casino accepts only 3 currencies: American Dollar, Australian Dollar, and Bitcoin.
Customer Support
Customer support at Rich Palms Casino is more than adequate, I'm glad to say. If you are stuck, or in a dire need of info, there are 3 options that can remedy whatever is bugging you:
Email
Telephone
Live chat
My personal favorite is the latter. Live chat support works great, it's super easy to use and waaay faster than a telephone call, or even worse – an email.
All online casinos should run their business like this, 'cos this is really a professional, polite, and knowledgeable support team waiting for you to call.
Just make sure your English is top-notch if you plan to visit Rich Palms Casino.
Available Languages
Although it can accept players from around the globe, Rich Palms Casino is optimized for players from United Kingdom, Australia, and players from United States of America.
It is no wonder then, that the only language spoken at this online casino is English.
Screenshots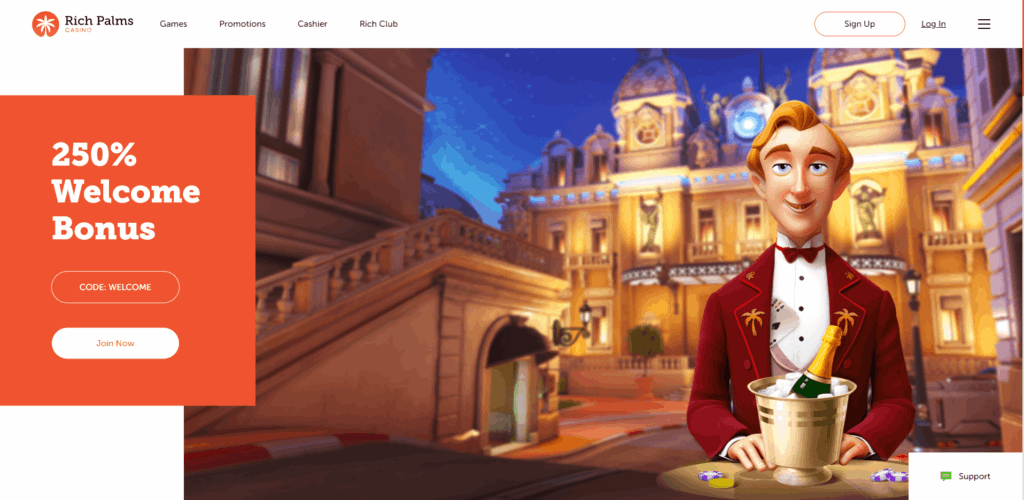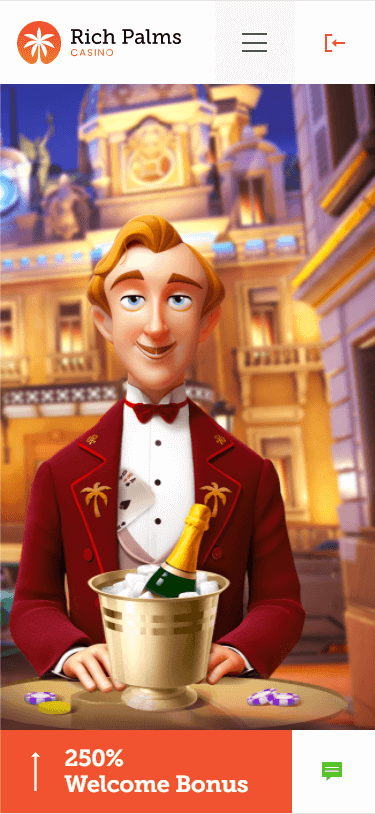 Rich Palms Casino Review Summary
Obviously, having players from the United States is a huge deal and a positive thing overall. And why deny it – players from the United Kingdom are welcome too. A promising start, one could say.
Technical support is more than decent and max cashout possibilities should attract high rollers. Having said that, the welcome bonus is outstanding and one of the best in the gambling industry. Poor SOB's like you and me will appreciate this, I can tell.
A lot of side adventures and daily bonuses stack perfectly with the starting ones. There is always some sort of reward lurking around, depending on the day of the week, and that's a big plus.
Withdrawal methods are somewhat limited, but all in all very safe and efficient. They could be a bit faster, but this remark stands for literally any other online casino in the present day.
Now, software developers. They are devastating beyond belief, in the sense that there are just two of them. Both respectable, but still not enough, by a mile.
Boredom is nothing compared to the style and playability of the games offered. Sorry, it had to be said.
But a crippling shortage of game developers aside, Rich Palms Casino offers fair and generous slots, if you have the stomach to play them.
It's nice to see video poker games represented in an orderly fashion, still, Specialty games take the cake IMHO. They are fun, ludicrous, and refreshing, so way to go Rich Palms.
Final verdict?
Go there and have some fun, but only, ONLY if you can handle the visual and sonic wasteland caused by the game provider deficiency.
Best of luck. We got you, Bro!
FAQ
Overall Rating by