The Top 15 Casinos in Las Vegas
Las Vegas is one of the most awe-inspiring tourist destinations in the world. The Strip is lined with massive, vast mega-resorts, and the city is littered with them. The majority of Las Vegas hotels feature magnificent pool complexes, shopping, dining, and, of course, casinos.
All of this size made us wonder: what is the largest casino in Vegas?
We used information from the Nevada Gaming Commission to compile a list of the city's top 15 casinos. The rankings we compiled are based on the amount of space dedicated to gaming.
Must Read: Casinos in Las Vegas That Provide a Free Slot Pull
Las Vegas's Biggest Casinos
Cirque du Soleil –

124,123 Sq Ft: Circus Circus' large gambling floor, which was opened in 1968, is showing its age. Circus Circus is popular among families visiting Las Vegas because of its kid-friendly attractions such as Adveturedome, the Midway, and a free circus act.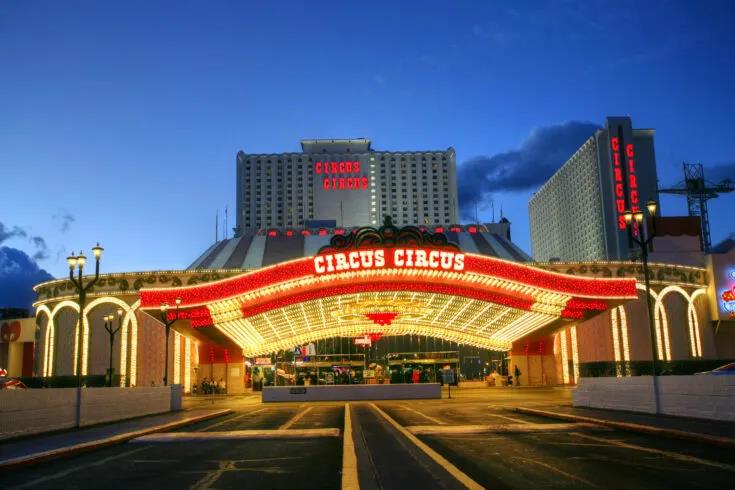 Caesars Palace –

124,181 Square Feet: Caesars Palace, like Circus Circus, has a long history. The casino floor of Caesars Palace, which first opened in 1966, is a maze with a Roman theme that includes one of our favourite sportsbooks in Vegas.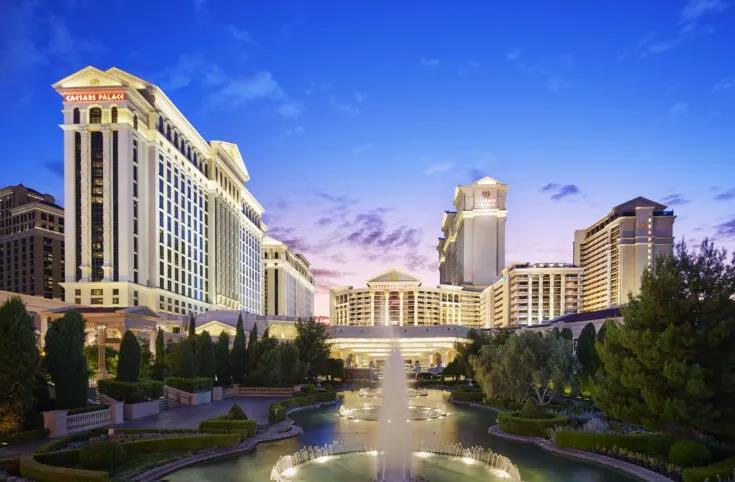 Aliante –

125,000 Square Feet: This North Las Vegas casino not only has a huge gaming floor, but according to data from the Nevada Gaming Commission, the slots in North Las Vegas are likely to be a little looser than those on the Strip. Due to Aliante's off-the-beaten-path location, table games usually have $5 minimum bets.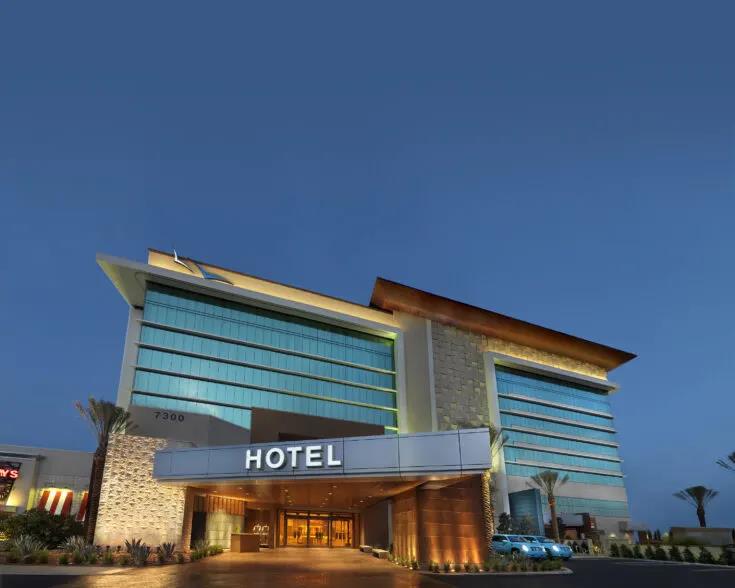 Palace Station –

126,085 Square Feet: Palace Station is located just off the Strip and is accessible via a free shuttle service that departs from Fashion Show Mall. Palace Station's gambling floor shines after a $192 million refurbishment. Come for a cheap bet and stay for a delicious meal at the well-known Oyster Bar, which is well worth the wait.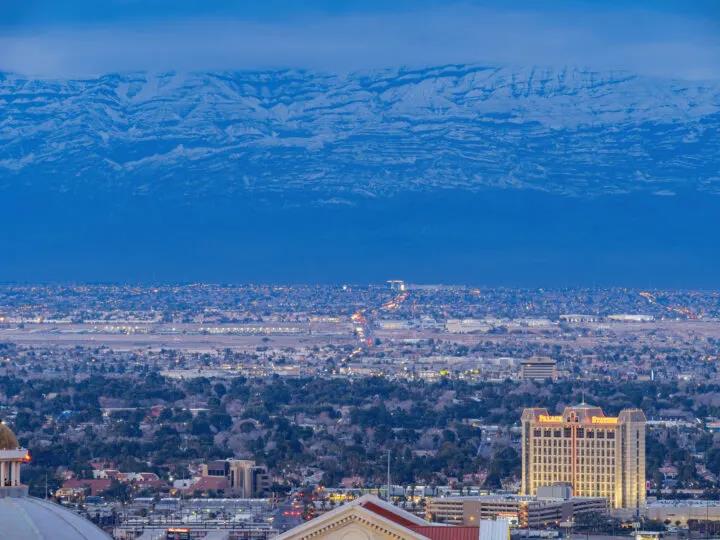 Venetian/Palazzo –

129,083 Square Feet: The Venetian/Palazzo boasts amazing theming features throughout the resort, in addition to over 1,900 gaming machines and 250 table games. Guests can meander around the Grand Canal Shops, have a bite to eat in St. Mark's Square, and listen to Gondoliers sing their passengers as they paddle through the property.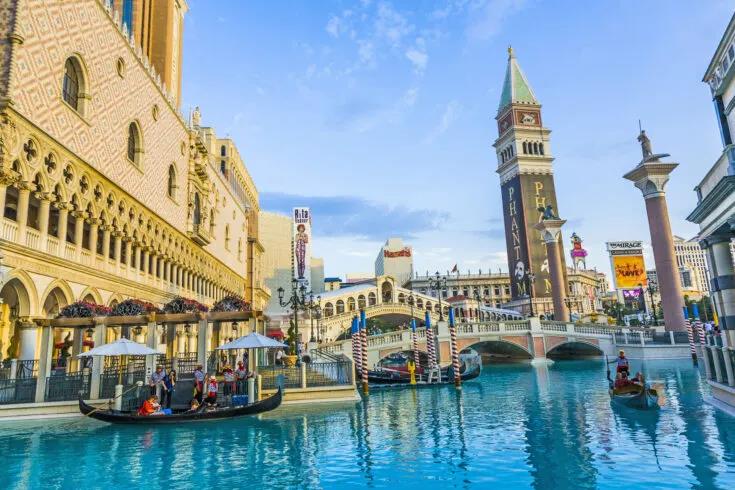 Orleans –

129,083 Square Feet: The Orleans gaming floor boasts over 2,600 gaming machines, 35 poker tables, a 60-seat keno area, and more, breaking the top ten largest casinos in Vegas. Located on Tropicana Ave., just off the Strip, Orleans is easily accessible via transportation services such as Uber and Lyft.
South Point –

137,232 Square Feet: Located south of the Las Vegas Strip, the South Point's expansive gaming floor features over 2,200 slot machines, 60+ table games, and a popular race/sportsbook.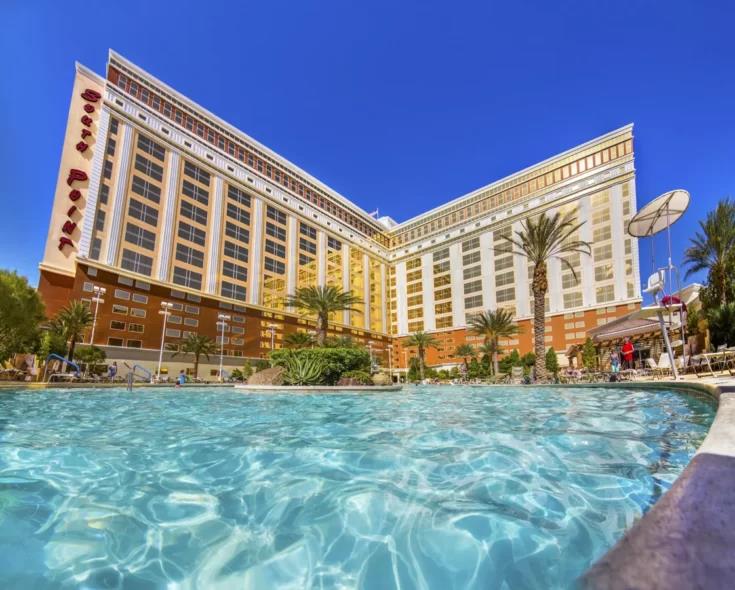 Green Valley Ranch – 143,890 Square Feet:

GVR is an off-Strip casino with a lavish ambiance, with one of the largest gaming floors in Vegas and the full range of games you'd expect. Even better, they're in the Boulder reporting area, which, according to the Gaming Control Board, has the loosest slots in Vegas.
Mandalay Bay –

147,992 Square Feet: Located on the Las Vegas Strip's south end, Mandalay Bay debuted in 1999 and features 3,209 rooms in addition to a massive gaming floor. After you've finished playing the slots, stop by the Minus5 Ice Lounge, which is entirely made of ice.
Aria –

150,000 Square Feet: Aria is a newer addition to the Strip, having debuted in 2009 and offering 1,940 slot machines and 145 table games to visitors.
Santa Fe Station –

151,001 Square Feet: Santa Fe Station is the 5th largest casino in Vegas, edging out Aria by a single square foot. Despite its remote location, the resort has over 2,400 slot and video poker machines, as well as 39 gaming tables.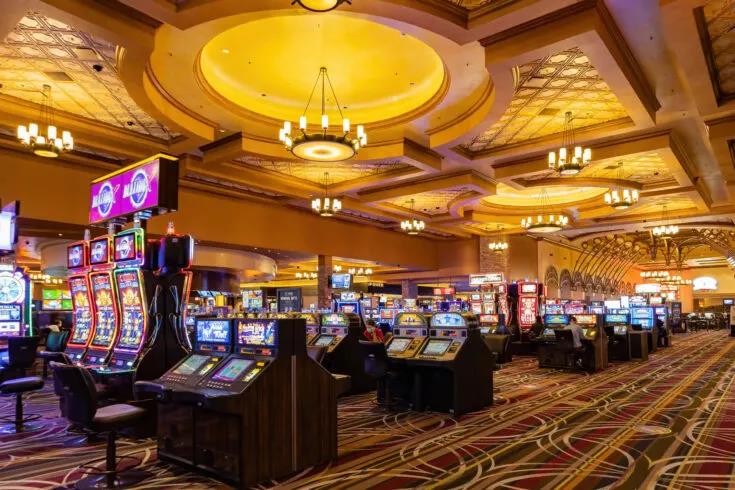 Bellagio –

156,000 Square Feet: The crown jewel of MGM Resorts' portfolio, the Bellagio opened to the public in 1998 at a cost of $1.6 billion. After you've conquered Las Vegas' fourth-largest casino, we recommend checking out Bellagio's free attractions. Both the conservatory and the Bellagio Fountains are sure to dazzle.
MGM Grand (161,880 sq. ft.)

: MGM Grand, which first opened in 1993 as a Wizard of Oz-themed hotel, is a monster. The casino is still one of the largest in Vegas, despite the themes being peeled away over the years.
Sunset Station –

163,951 Square Feet: With over 2,100 machines and a full range of table games, Sunset Station is the second largest casino in Vegas by square footage. Table minimums are usually $5 due to Sunset's location away from tourist areas, making it a good value offer for anyone trying to stretch their cash.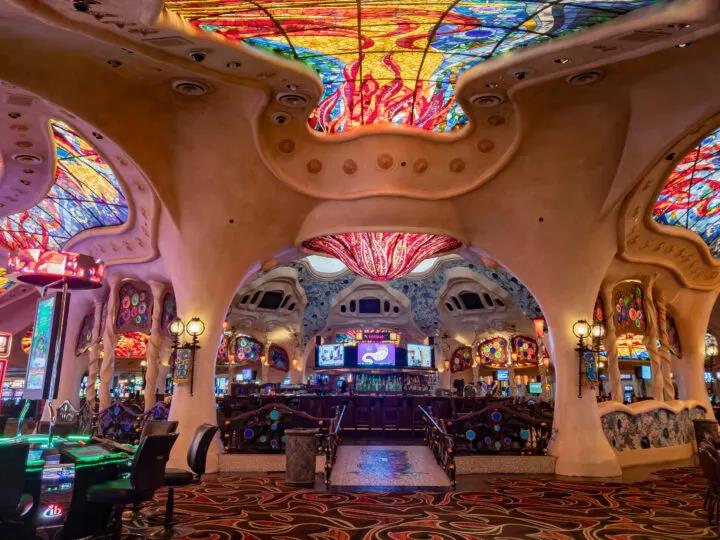 Wynn/Encore –

191,424 square feet: The largest and most lavish casino in Vegas. Encore and Wynn combined gaming floors have over 1,800 slot machines and 180 table games. After you've tried your luck, get a drink at Parasol Down and watch Wynn's Lake of Dreams, which is free entertainment.
Must Read: What Buffets in Las Vegas Are Open?
Downtown Las Vegas's Biggest Casino
We would be negligent if we did not mention downtown Las Vegas, despite the fact that it is not one of the city's most populous areas. Golden Nugget is the largest casino on Fremont Street, with 48,367 square feet of gaming space.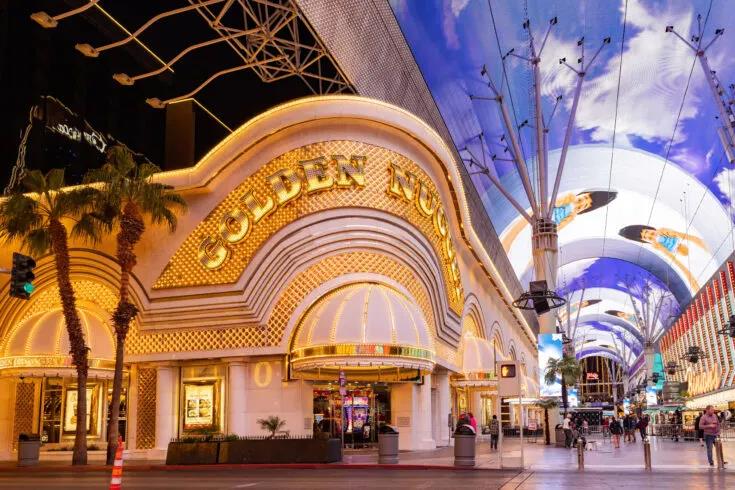 That's it, the results are in, and Wynn holds the title of largest casino in Las Vegas by a long shot. Size doesn't matter, as I always tell myself. After all, gaming is enjoyable regardless of the size of the room.