Casino Features
Mobile Casino
Reality Check Reminder
Vip Program
Time-Out Period
Live Chat
Financial Limits
Gamification
Self Exclusion
Online Transaction History
Help And Support
Self Assessment Test
Manual Flushing
Casino Info
website: https://www.vegashero.com/
email: support@vegashero.com
phone: +356 27761397
established: 2017
owner: Genesis Global Limited
licences: MGA, UKGC, Swedish
languages: English, German, Finnish
game providers
deposit methods
withdrawal methods







Vegas Hero Casino Review
What's up, rollers?
Vegas Hero is an online casino that looks like it has been made by an overachieving love child of directors Christopher Nolan and Ves Anderson. Name your favorite game and VOILA, there it is, wrapped in a juicy package with almost endless possibilities, twists and turns.
Kind of reminds me of a cake my grams made for my 7th birthday – it was huge, borderline intimidating, with several thick layers of Lord knows how many ingredients. 
If you don't believe me, just go there and see it for yourself. If you do, carry on reading this Vegas Hero Casino review for details. We got you, Bro!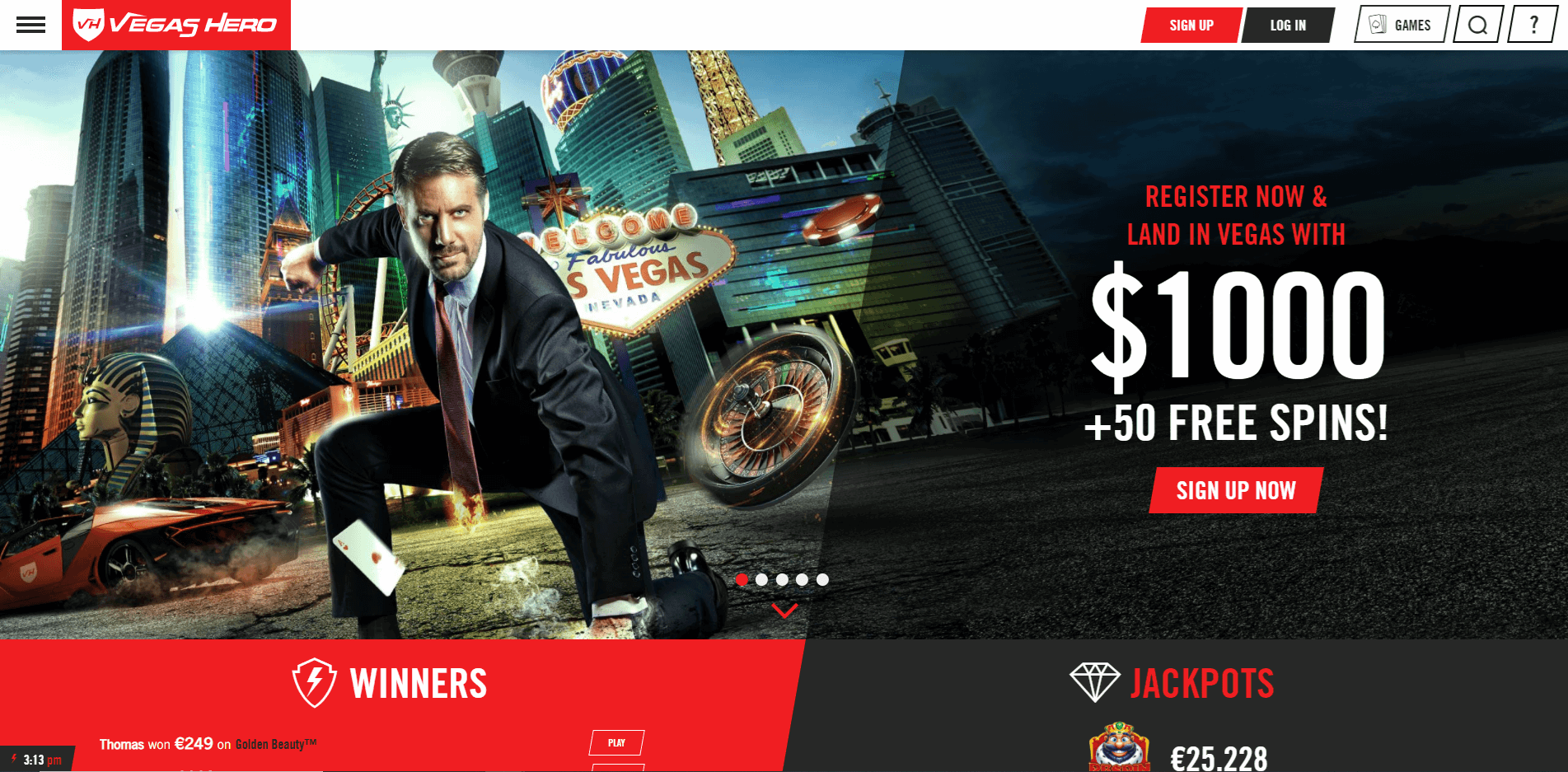 Bonuses
As a rule of thumb, bonuses serve to attract people like you and me and keep us playing until we kick the bucket. But I have to admit, Vegas Hero truly has some hella benefits off the bat.
As soon as you start, you will receive a welcome bonus offer. Part of their Welcome Power Pack Bonus (always hated those cocky nomenclatures, btw) allows us to earn up to €1,000 of bonus cash and more than welcomed 50 free spins, which sounds great.
This welcome bonus is one of those multi deposit ones, meaning that you will earn it over the course of your first four deposits. Let me break it down for you how things roll at Vegas Hero:
On your first deposit there is a 100% bonus match, €200 max bonus and 50 spins.

On your second deposit Vegas Hero gives you a 50% bonus match, €200 max bonus and no free spins. Bummer, I really like them.

Third deposit involves a 25% bonus match, €300 max bonus and zero spins.

Fourth deposit will get you a 25% bonus match, €300 max bonus and no free spins.
All of the playthroughs are 40x, as simple as a cake, as long it is NOT being made by my grams.
K, But How DOES It Work?
There's no easy way to put this so I'll be blunt. If you want to earn the full €1,000 bonus match you will have to deposit a combined €3,000 over your first four deposits. 
In other words, you'll need to deposit at least €200, €400, €800 and €1,200 respectively to harvest the full benefits of this seriously cool promotion.
I guess this promotion is a high roller's wet dream because those who are planning to wager big money will have a good shot at earning some bonus dough.
Also, I have no clue whatsoever how much cash you need to pour in to qualify for special treatment at Hero Vegas but the perks being promised seem substantial. You'll get a dedicated account manager, holiday packages, personalized birthday presents and yes, you've guessed it, a plane ticket to Las Vegas.
Feel free to call me in when you blast your way into those exclusive VIP events. 
"It's Tuesday, I'm In Love"
On this specific weekday, which just happened to be my suckiest day of the week, one can score a pretty nice boost on Vegas Hero deposits.
There's this thing called Tuesday Power Play Bonus (again, Walt Whitman is spinning in his grave like a rigged roulette) where you can get an additional 25% bonus on your deposits. Basically, you can earn up to €100 in free cheddar. Though, bear in mind that if you are aiming for the whole Ben Franklin, it will take at least €400 in deposits on a Tuesday.
In all fairness, there are some prerequisites before you can start chasing those Benjamins. To qualify for this promotion you'll need to have made at least one deposit at Vegas Hero, the minimum deposit being €10. Lastly, if you find yourself earning bonus funds from this promotion, they are subject to a 40x rollover requirement.
It's a, uh, what's the correct phrasing nowadays… "mentally-different-proof" operation. Go to the cashier to make your deposit, select the Tuesday Bonus from the drop-down menu and Vegas Hero will do the rest for you.
Freespins
You know those free 50 spins I've mentioned? Well, you don't get them all at once.
Instead, the deal is 10 free spins per day over the course of 5 consecutive days. Mind you, they are only good for 24 hours so in order to claim them, you will have to drop by at Vegas Hero Casino come dawn.
A couple of reminders, gents, and ladies, the rollover requirement from any bonus funds scored through this promotion is 40x. Also, if you want to qualify for this promotion, the minimum deposit for any of your first four deposits is 10 bucks.
Have I mentioned that this "welcome bonus" is only available to new Vegas Hero clients? OK, now I have.
Games
Let me get this clear: I hate hyperboles. So when I say Vegas Hero offers hundreds of slot games to choose from, I mean it literally. 
Vegas Hero has game providers like: NetEnt, Microgaming, Quickspin, NYX Interactive, Play'N Go and Evolution. Combined, those are some cool software little helpers that provide zero worries for Vegas Hero's casino clients.
For a brief moment, I was eager to scroll them all down but eventually I threw the towel. Felt like I was a stockbroker during a 1929 Wall Street crash.
I honestly don't know how many slot games they have. Couldn't care less to count them all, and I believe neither will you.
What I can say is that the variety of slot games is pretty decent. Vegas Hero offers you single reels, multi-reels, jackpots – you name it. I've already told you in the introduction that Vegas Hero games come in a galactic magnitude and if you are a slot game fan – which I am not – there is no possible way you'll end up empty-handed. 
The slots graphics are more than adequate in most cases. As a rule of thumb, if it is a name-brand slot machine, the design and graphics will most likely be significantly better than lower-grade competitors. Look at it this way: do you seriously think that a Jurassic World slot game will lag behind The Return of The Friendly Rhino Pediatrician?
Vegas Hero is cool enough to offer jackpot options to their clients and some of them had jackpots in excess of €1,000,000! So I am very confident that we have a winner here if only I wasn't so annoyed by the slot machines personally.
Which brings me to the casino.
After such an impressive selection of slot machines, I had high hopes for my favorite part of every online casino – table games. They add intrigue and tension to the game and pump me up to 110%. Lemme tell ya, I'm excited already.
Obviously, Vegas Hero hasn't let me down here. There's more than plenty of games to choose from and if you are a sucker for live dealer games like me – boy, you will have fun. I almost envy you for getting a chance to kick in that sweet Welcome Power Pack Bonus (sheesh, it even hurts when I write). 
There are over 60 different live dealer games which are not just solid, but far better than most of the competition. If this was a Ready Player One movie, you would know where to find me and pat me on the back: poker, roulette, baccarat, keno and blackjack tables.
For me, the game-set-match point was Vegas Hero roulette options. There are like 30+ roulette games to choose from and to slam dunk the whole package, Vegas Hero opted for all three main types of roulette – American, European and French. This is truly a rare sight to behold in the world of online casinos.
In fact, I was sort of surprised when I realized that poker games were not as numerous as I'd expected. Now, don't get me wrong, there's a ton of them but judging from the colossal selection of slots and roulettes. One would guess that poker games will follow the suit in terms of pure lavishness.
As mentioned before, the graphics of roulettes and pokers also range from average to brilliant. In fact, for all this time I haven't played any game with downright poor visual design and graphic solutions. So there you have it: slots, table games and live dealer games are on a more than satisfying level. 
Mobile
Of course, Vegas Hero is a smartphone-friendly casino. Did you really think it wasn't? Christ, they even support BlackBerry. What's next – casino games on MySpace?
I prefer to play games on my computer because of the privacy and leisure of my own apartment. Don't get me wrong, certain games perform pretty well on a smartphone. In fact, there is an app that does not require APK file download and installation, nor all that hassle typically associated with the likes of iTunes. Just go to Vegas Hero website in your browser and you're ready to roll.
Deposit / Withdrawal Methods
As far as depositing methods go, there's like a dozen options for you to cash in.
The usual suspects are Skrill, Trustly, Visa, Visa Electron, Neteller, PaysafeCard, Mastercard, Maestro, etc. But the only one I don't see here is the one that allows my granny to walk into Genesis Global Limited on the island of Malta in person and make it rain.
For withdrawal, I would recommend using e-wallets because it's faster, and you will be slapped with a minimum €2 "handling fee".
Support
Here's the thing, though. The reason why I think Vegas Hero's customer support is good are multiple methods for you to contact them. You have live chat, phone and email. Personally, I prefer live chat for the pure pleasure of convenience. I know, I'm a lazy slob. Sue me.  
I've used it a few times because I was doing something wrong. Being an idiot that I am, they were more than helpful. Had to be put on hold once for a bit but it was nothing compared to some other support teams I've had the pleasure of dealing with. 
Summary
Now, I know this is beyond and above nitpicking. HOWEVER, the discount with a picture of Tom Hardy staring at me on a homepage glory shot is a bit too tacky for my taste. Yeah, yeah, it's supposed to be all about the flash and the bling but I find the whole "James Bond went rogue theme" somewhat visually patronizing.
I came here to kick ass on my own, to have a lot of fun and pull some coins, if you know what I mean. I don't need glittering distractions that remind me of how aesthetically inferior I am compared to B-class male and female models featured here.
And just when I thought that a roulette wheel spun in my face like a ninja star was overkill, there it was – a Lambo with a "VH" badge instead of a raging bull. Jesus, Mary and where-do-you-get-off Joseph!
But they are bold, I'll give them that.
Jokes aside, US players are not allowed and that may be the biggest drawback. Not for me though. Also, they don't seem to accept bitcoin, and I've waited two days for my money withdrawal period, which may be too much for some players.
Conclusion: Lawd, It's Full Of Stars  
I've been to Las Vegas a few times and have an embarrassingly long gameplay time in Fallout: New Vegas video game, and this is the closest you'll get to the real deal. If there were any more choices of games, this online casino would have to register as a galaxy of its own in the United Nations. 
But unlike Sin City and its video game variants, with Vegas Hero you don't have to risk getting shot or contracting a venereal disease. It is bulletproof safe and has some serious credentials to back it up.
Overall Rating of Vegas Hero Casino - by