Conrad Room Review at Resorts World Las Vegas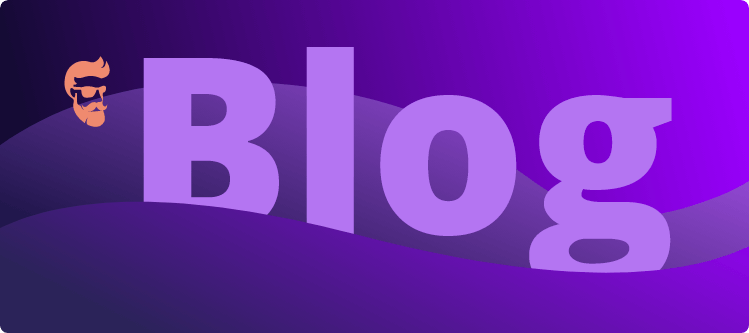 The newest hotel on the Las Vegas Strip, Resorts World, is located on the same plot of ground as the classic Stardust.
Resorts World's development has been marked by ups and downs over the years. Following the demolition of Stardust in 2007, Boyd Gaming began development on Echelon Place, a new resort. After the 2008 economic crisis, however, progress came to a standstill, leaving an incomplete edifice in its wake.
The steel bones of Echelon were purchased by the Genting Group with ambitions to bring Resorts World Las Vegas to life on the Strip after years of frying in the desert sun.
Hilton manages the hotel in Resorts World, which has three different brands of rooms. Their entry-level rooms are Hilton-branded, while their mid-tier accommodations are Conrad-branded. The Crockfords rooms at Resorts World are the most opulent on the top end.
Since my first visit to Resorts World on opening night, I've been looking forward to staying there.
I had signed up for Genting Rewards that evening and was surprised to receive an email later that day stating that they were willing to match other offers I had received from competing Las Vegas resorts. Resorts World was able to match a 3-night stay I was offered at Venetian with a 3-night complimentary stay in one of their Conrad branded rooms with a Strip view after a few emails back and forth. I was ecstatic, to say the least.
In addition, Resorts World does not charge resort fees on comped accommodations, which made me very happy. In Vegas, this is a rare occurrence.
The Check-In Experience at Resorts World
I received an email from Hilton, who operates Resorts World's hotel, the night before my visit, telling me to download their phone app and select my room.
Despite the fact that I had already reserved a Conrad room, I was given the option of selecting the specific room I desired from a property map. On the 57th floor, I chose the nicest view I could.
When my room was ready on the day of my visit, I received an alert and was directed to check-in using the Hilton phone app. After checking in, I was allowed to use my phone as a room key. I've never had to wait in a line or deal with a self-service kiosk.
This was without a doubt the most pleasant and speedy check-in experience I've ever had in Las Vegas.
The Conrad Room at Resorts World
My room, as previously said, was on the 57th floor with a view of the Las Vegas Strip to the south. The elevators were really quick, and they frequently popped my ears on their way up and down. In addition, they were sparsely populated. I can count on one hand how many times I had to share an elevator with another person, albeit this could be due to low occupancy during the week.
The Restroom
The bathroom had a modern and stylish vibe without being over the top, thanks to a distinctive illuminated mirror and appealing tile work.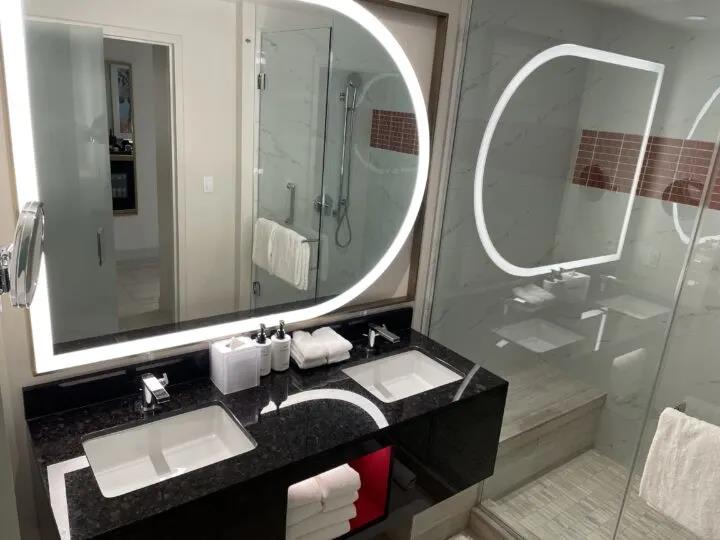 There was a detachable showerhead in the shower, as well as a rain shower faucet on the ceiling above. There was also a bench built into the shower, as well as plenty of room. Surprisingly, hot water was only available on a periodic basis. I was able to conjure scalding hot water two times, but just lukewarm water the other two times. It's not a deal-breaker, but it's unusual for a new resort.
Pumps of Byredo's "Mojave Ghost" body wash, conditioner, and shampoo were kept in the shower.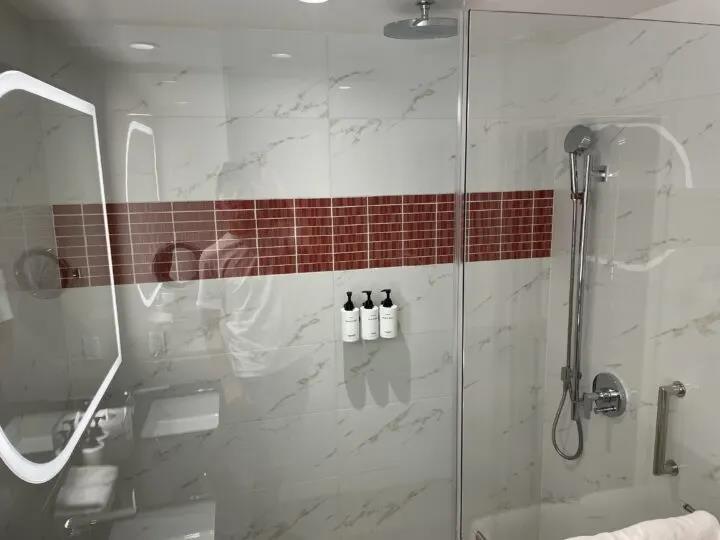 There was no bathtub, in case you were wondering.
The black marble twin vanity provided plenty of storage space as well as a personal mirror. While I'm no expert on bath products, I believe the hand soap and lotion given on the counter to be of good quality.
A hairdryer was also provided and can be found in the closet right outside the bathroom.
A frosted glass wall with a door separated the toilet from the rest of the room.
Conrad's Room
The room was immaculate, as one would expect from a new resort. There were USB charging connections on both sides of the bed, as well as a standard outlet. A wireless charging station was also incorporated into the top of the alarm clock.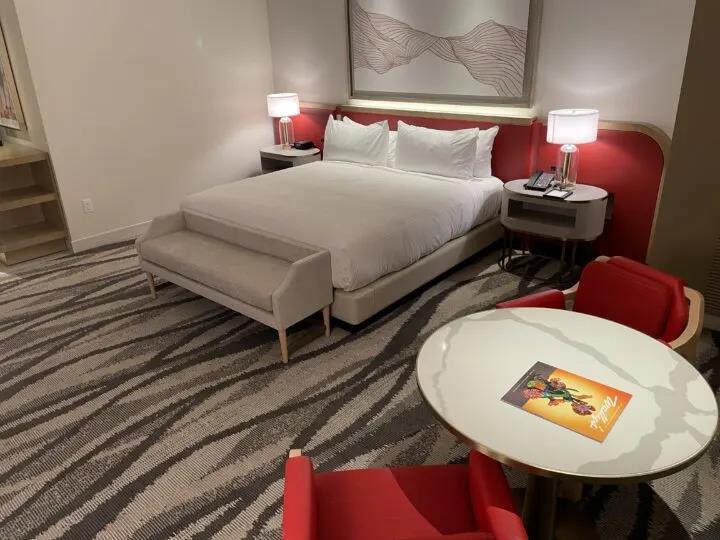 A small table with two seats, a bench at the foot of the bed, and a cabinet under the TV with a built-in bench gave the room a modern, trendy feel.
There was a minibar with food and beverages that could be refrigerated. Of course, I didn't partake since, well, I don't have enough money.
A tiny empty fridge was also available for guests to use for their own requirements. While it isn't a full-sized mini-fridge, it can hold 12 cans of beer. I put it to the test. Of course, for scientific purposes.
In the closet, there was an ironing board, an iron, and two robes.
Before my trip, I was worried that light from the hotel's massive screen on the outside would seep into my room, but the curtains did an excellent job of shutting it off.
The Strip view accommodations at Resorts World, in my opinion, have some of the nicest views of Las Vegas.
The Resorts World Pool
The 6th-floor rooftop pool deck at Resorts World ranks among the best pools in Vegas, with 7 pool experiences spread around the enormous 5.5-acre complex. A big hot tub, a family pool, and an infinity pool with views of the Strip to the south are among the pool's unique features.
Cornhole, big Connect 4, giant Jenga, and a massive checkerboard are among the social activities available on the pool deck.
Grubhub may be used to order food from any of Resorts World's restaurants and have it delivered to the pool deck. The lockers shown below are where orders are delivered.
Details on Resorts World Casino
There are over 1,400 slot machines and 110 tables on the 117,000-square-foot gaming floor. Limits for games including craps, blackjack, and roulette were $15 during the week, but they were raised to $25 in the evening.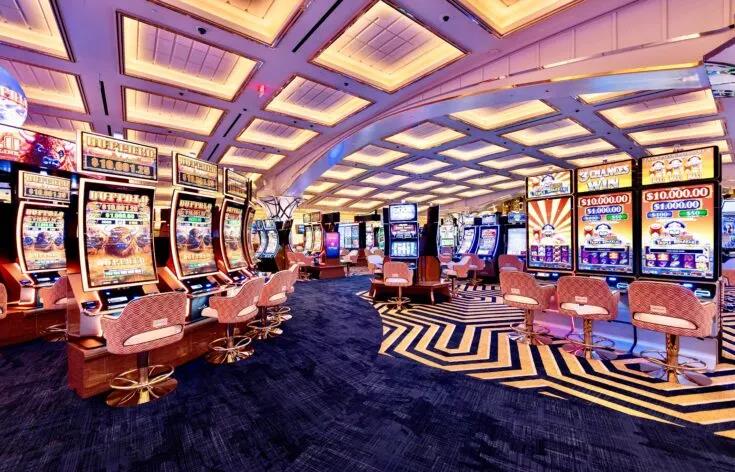 While cash is still accepted, players can use money loaded to the Resorts World phone app via Play+ to support their playing on slots and tables.
If cashless gaming appeals to you, you can create a Play+ account as well as a Genting Rewards account at a self-serve kiosk or the loyalty desk. The loyalty staff was really kind in assisting me with getting set up and explaining how everything works. Moving money from your bank account to your app to support gaming is simple after you've set it up.
To load your Play+ account, there are costs identical to those charged at an ATM.
Location of Resorts World
The primary disadvantage of staying at Resorts World for many people is the location. While the resort is technically on the Strip, it is not in the heart of the action.
Encore and TI are the closest resorts to the south, both around a 10-minute walk away. If you'd rather skip the steps, a cheap Uber (around $15) should get you to any of the Strip's hotels.
However, there are certain advantages to the location. A Walgreens is conveniently located across the street, which I used to supply my room with beer and munchies. A McDonald's is also just a few steps away on the property's north side. Tacos El Gordo and Peppermill, two of the city's most popular eateries, are also immediately across the street. You're also closer to Fremont Street, which means an uber or taxi will be less expensive than if you stayed at a more centrally placed Strip hotel.
Circus Circus and Sots a Fun are both next door to the north, albeit they've seen better days.
Dining Options at Resorts Around the World
This, in my opinion, is where the resort truly shines. Over 40 food and beverage options are available at Resorts World, ranging from excellent and economical to premium. I stuck to the Famous Foods Street Eats, which is essentially a high-quality food court themed after a Southeast Asian market, because I'm not usually a "upscale eating type."
Asian cuisine, duck tacos, fried chicken, and even Texas barbecue are all available. You're sure to discover something that works among the approximately 15 cuisine options available. Orders can be placed at the counter or at one of the self-serve kiosks that are scattered throughout the area. The majority of meals cost between $15 and $20 and are of considerably higher quality than what you'd find at a fast-food food court.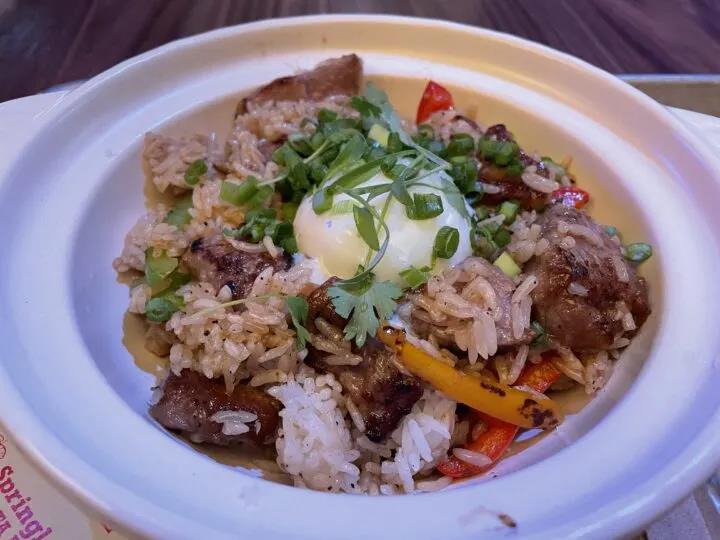 I had Ten Suns' Rare Steak Noodle Soup and Geylang Claypot Rice's Beef Claypot Rice while I was there. Both were great.
There are plenty of sit-down options for those who want to travel away from the Famous Foods Street Eats, including Mexican, Chinese, Teppanyaki, American, and more. We propose that you take a look at the entire list of eateries here.
Is a Conrad Room at Resorts World Worth the Money?
Keep in mind that, thanks to a generous offer match, my stay was absolutely free. If you get a free room or a significant discount, this room is well worth your time. I was blown away by the room and resort, and I'm hoping that my casino play will earn me more freebies in the future. I'd definitely return.
However, if you must pay full price, there may be better solutions. When I look at rate calendars, I notice that the Conrad room at Resorts World is priced comparable to Wynn's Resort King suite and Venetian's Luxury King Suite. Not only do each of those resorts have a superior location, but they also have a better room product.
Just make sure to compare the prices of your Resorts World room to those of other resorts to guarantee you're not missing out.
That said, if you find a good price, take advantage of it. I hope you have as much fun as I did throughout your visit.