Online Casino Bonus Hunting 101: Is Bonus Bagging Worth It?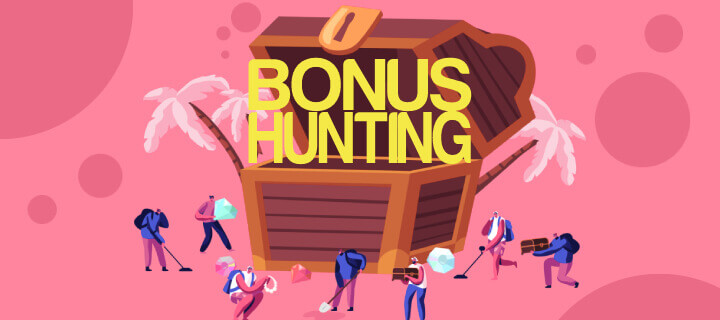 Sup, bro! It's your boy Derrick, coming at ya with another important guide that's long overdue. This time, I'ma discuss bonus hunting and how it can potentially get you in trouble with the big bad casino owners.
Ages ago, there were no strict rules about online casino bonuses. It was a fertile ground for players to find gaps and exploit them, thus gaining a competitive edge over the house. Naturally, there isn't a casino in the world that would stand for this, which is why contemporary contract terms are far more complex. After all, if there's one thing you don't want to be labeled as – it's a bonus abuser.
What is Online Casino Bonus Hunting?
Bonus hunting is like Voldemort. Every time someone utters those two words, online casinos twitch in horror. Bonus hunting! A.k.a bonus abusing or bonus whoring – it gets online casinos all riled up and eager to dish out ban threats.
In fact, since the dawn of online casino promo during the '90s, bonus hunting has been a prevailing issue. Now you might be thinking, how could it be that casinos are battling something for so long, and yet they still haven't found ways to truly prevent this?
The answer is simple: Not all bonus hunting is illegal.
What Is Bonus Abuse?
Here's an example of abusing a casino bonus. So a guy walks into a casino and notices the casino is giving a 100% bonus for a first deposit. He deposits $100 and gets $200 worth of casino coins. But instead of playing with the $200 in his pocket, he goes back to request a refund and cashes out $190 ($10 withdrawal fees) without ever playing a game. The guy earned $90 bucks. He's happy, the casino isn't.
However, players can no longer do this in land-based or online casinos because the term bonus hunting strategy is on everyone's radar now. That's why we have wagering requirements. Still, that didn't prevent bonus hunters from devising new strategies to turn online gambling in their favor.
Bonus Hunt Practices That May Be Considered Bonus Abuse
Now that you have an idea of what a bonus hunt entails, let's discuss how exactly it's implemented. Some of the bonus hunts are illegal, some are by the book, while some fall in that weird grey area that nobody really knows how to address.
Creating multiple accounts in an online casino
Ok, this one is straight-up illegal, bro. This is a common tactic to exploit welcome deposit bonuses and no deposit bonuses. A bonus hunter will create an account, deposit the minimum amount to trigger the welcome bonus, and try to earn some dough by playing online casino games. If it works, great! If it doesn't, they create a new account and employ the same bonus hunting strategy all over again.
If you're not familiar, a welcome bonus can be claimed only once. Since our bonus hunter already used up the welcome bonus, he or she has no other choice but to create another new account. With the deposit bonus, the bonus hunter will be at a loss, but with a no deposit bonus, they will literally waste nothing but time when creating new accounts.
Failing to meet the wagering requirements
Yup, we all despise them. No two ways about it. Wouldn't it be great if we can cash in our bonus cash a bit earlier? Well, the bonus hunting advocates have been doing that for quite some time now.
This casino bonus hunting strategy involves a player withdrawing bonus funds before they finish their wagering. Believe it or not, this used to work. Because of this, most online casinos won't even let you cash out if you have an active bonus. But who knows? Maybe there are still some online casinos out there that overlooked this old method. Of course, this is also totally illegal, bro, and we don't condone it.
Claiming the same casino bonuses multiple times
This one's similar to the first method but doesn't involve making a new account. When making a deposit, many online casinos will let you choose which bonuses you want to redeem. So let's say you claimed the welcome bonus and used it all up. Now what? Well, why not use the welcome bonus again?
Again, this is something that was entirely possible in the past but nowadays most online casinos prohibit this by simply removing bonuses you've already claimed. But here's the kicker: A LOT of innocent players have had their accounts banned for accidentally or unknowingly claiming the welcome bonus twice. While claiming multiple bonuses is illegal on paper, I can't help but feel some casinos tend to overreact to their detriment.
Casinos that let players claim the welcome bonus twice and then complain about it shouldn't be in this business, IMHO. On the other hand, regardless of my lack of sympathy for these casinos, let's all be good little players and agree that free casino welcome bonuses should only be used once.
Making large bets with bonus money
Some players are tempted to wager as much of their bonus money as they can. But what happens when they end up winning big as a result? Well, it is highly likely that the casino will stop them, stating that they broke one of their rules. The ability to block players from wagering more than they should while a bonus is still active is commonplace these days. If this is news to them, they shouldn't be in this business. Plain and simple.
Trying to play ineligible games
There are times when I had a lucky streak only to realize that I've been using my bonus funds on the wrong games. Numerous players (myself included) have been robbed of their winnings because they didn't read the terms and conditions which said that a handful of games are part of the bonus. Usually, they're old, boring, and/or have terrible RTP.
Casinos justify this by claiming players should have read their T&C but I always feel they haven't issued clear warnings to the players. I mean, is it too much to ask for online casinos to simply say: "Hey, this game is not eligible for your active bonus. If you continue, you will be ineligible for a withdrawal. Are you sure you want to continue?" It shouldn't be so hard.
How NOT to Become a Bonus Abuser
Now that we are familiar with the tricks of the trade, it's time to consider avoiding them. Some of us did a little bonus hunting without even realizing it, so let your boy Derrick share a little know-how.
Respect the terms and conditions of all online casinos
If online casinos (and any other digital media) truly wanted us to read their terms and conditions, they wouldn't have made them so extensive and boring, right? I could sit here all day and wag my fat finger at you yelling "Read the terms and conditions!" but we both know it's a fool's errand.
Unfortunately, reading that darn telephone book is probably the only thing that can help you decide whether a casino is worth the trouble. So I propose the next best thing: Let us do the reading for you. It's one of our jobs to make that mind-numbing content digestible in all of our online casino reviews. Not only that, we'll disclose any catches or obscured conditions that may be hidden between the lines.
Get to grips with the wagering requirements
I'm beginning to bore myself over how many times I mention checking the wagering requirement for each bonus. Even if you are going to rely on casino review websites to do it for you, still keep an eye out for them. If a casino actively tries to hide them, it is highly likely they suck big-time.
Always go for the lower wagering with lower rewards than higher rewards with higher wagering. Don't try to withdraw funds without meeting the requirements. Best case scenario – you will just hit a wall. Worst case scenario – the casino will ban your account.
Avoid arbitrage during sports betting
This is more of a sports betting scenario but it's pretty much worth mentioning. If you aren't familiar, an arbitrage is when you bet on every single outcome to guarantee a profit. Normally, most sports betting games will have odds that prevent this, however, not all sports betting sites are that careful.
While there isn't an official rule that says you can't bet on multiple outcomes on the same game, it is still frowned upon. Plus, it eliminates the whole point of betting on a particular horse, figuratively speaking. At best, the sports betting site will give you the stink-eye. At worst, they will ban you for not playing 'by the book'.
Different Bonus Hunting Tactics and How Casinos Detect Them
Major issues are easy to detect when it comes to casino bonus hunting, but the devil is in the details. Below you'll find a list of minor offenses that casinos keep an eye on (even though many bonus hunters often remain unphased when they get clocked). You shouldn't do any of these, dawg!
Placing small bets until wagering requirements are met and then immediately cashing out any profit
The fact that people do this without the intention of playing anymore kinda speaks for itself. This is usually done with a no-deposit bonus or the first deposit bonus. A bonus hunter will pick one or a few online slots that have a really high RTP (Return-To-Player) percentage and just place small bets until they meet the wagering requirements. Once they do, they will simply leave the online casino, never to be seen again.
On paper, nothing here is illegal. In reality, casinos hate this. To tackle this type of behavior, casinos will set minimum bet amounts for certain bonuses, exclude certain games (those with high RTP), or simply make the wagering requirement bigger.
Hitting high variance slots and hoping for big wins and quick a wagering turnaround
This bonus hunting tactic entails placing lots of bets on lots of different online slot games and hoping that one of them will bring home a win. Normally, each of these slot games will have a low RTP but very high volatility. Players will simply roll until they get lucky with one of the slots and win enough to meet the wagering or use up their own money.
Again, nothing illegal about this tactic but it's one of the casinos' pet peeves. Excluding games with high volatility from using bonus funds is the most common way casinos tackle this issue.
Playing games with minimal odds or high payout percentages
Pretty much the same as the tactic above. A bonus hunter will hope to get lucky and only play a high volatility game. Sometimes, only one good match will be enough to meet the wagering requirement and make it eligible for a withdrawal. Again, all casinos have to do is to exclude high volatility games from participating with the bonus. Casinos can also set a maximum winning amount allowed for each deposit bonus, free spins bonus, or no deposit bonus.
Claiming multiple bonuses repeatedly and cashing out as soon as the profit is made
If it weren't for that last bit, this one would have been very much legal. Indeed, some casinos will let you claim a single bonus multiple times, or several bonuses at the same time. Sometimes, even when bonus hunters know that this is wrong, they still do it. The idea is to claim as many bonuses as possible, roll them over super fast, cash out and be out of there before the casino po-po arrest you. Kinda sounds like hacking a casino, doesn't it, dawg? The simplest way to counter this tactic is for casinos to only allow one active bonus at a time. Simple as that.
How Do Online Casinos Combat Bonus Abuse?
Similar to land-based casinos, online casinos have eyes and ears everywhere. It's in their interest that their customers spend a lot of money without abusing the system. While land-based casinos are often riddled with cameras, online casinos use anti-cheating software, IP trackers, and other bells and whistles to make sure everyone plays by the book. Let's see how they stop bonus abusers in detail:
Tracking players' IP addresses
An IP address is very much like your actual home address, only it concerns the web. When you log to certain websites, they will be able to see your IP address. Online casinos keep track of IP addresses that visit their domain in case someone tries to make multiple accounts and resort to bonus abuse.
Basically, if a bonus hunter creates two different accounts from the same IP address, the casino will most likely ping that user and take action. And, no, they don't care if you live with roommates who also like to gamble. Online casinos have a strict "one account per household" rule.
Some players think they can outsmart the online casino by using a VPN (Virtual Private Network), which can mask their IP address as if they are from a different place and try to create multiple accounts. But this tactic, in this day and age, rarely works. Online casinos are always keeping tabs on different VPN addresses and they sure as hell don't like it when they clock them. It's best that you avoid using a VPN when you play casino games.
Banning certain countries from qualifying for bonus offers
Seems kind of racist but very understandable from a business perspective. Basically, if a casino notices that the majority of rule-breakers are coming from a similar country, they may just decide to add that country to their blacklist. This is why we sometimes see online casinos with huge restricted countries lists, dawg.
They simply don't want to deal with each individual bonus hunter, so they just lock the door if they come in spades from a particular place. Yeah, this kind of thing sucks for honest countrymen who just want to play their favorite casino game. It is what it is.
Limiting which deposit options qualify for bonuses
If you've already been to a few online casinos, you've probably noticed that certain payment methods can't be used for getting deposit bonuses, free spins, and bonus funds in general. Ever wonder why that is?
Well, certain payment methods like e-wallets or cryptocurrencies give you more anonymity than others. This means that, while a casino will receive the money, it ultimately won't know who the REAL sender was. Some online casinos that track players using their payment methods have had trouble with this because it can give players incentive to start creating multiple accounts and abusing those bonus rounds.
Just like banning entire countries, some casinos simply say SCREW IT and ban an entire payment system from participating in bonuses. Needless to say, this sucks but it's nothing out of the ordinary.
The Consequences of Bonus Abuse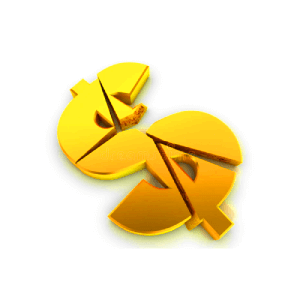 So what happens to bonus hunters when they get caught? It's entirely up to the casino to decide. Every single gambling site has its own set of rules about how they deal with bonus abusers. It can range from issuing a warning to serving a perma ban, no questions asked.
Placing small bets, playing high volatility games with bonus funds, or trying to withdraw funds without meeting the requirements will likely result in a 12h-24h ban just to teach you to play nice. But creating multiple accounts will probably get you banned permanently in the blink of an eye. It really depends on the severity of the situation and on how generous the casino is feeling.
Another thing casinos love to do whenever there's a hint of suspicion is to halt withdrawals. Ho, boy, have I got stories about that. In fact, casinos seem to love doing this as a safety precaution – even when they got nothing on you. Maybe they just love to show who's the boss. Whatever the case may be, every single online casino that halts withdrawals will always say that they need to double-check your account and will probably ask for some ID.
Not Every Casino Is Honest Regarding Bonus Abusers
So far, you may have gotten the impression that your boy Derrick doesn't 100% support casinos when it comes to bonus abuse. If you came to that conclusion, you're one smart cookie, dawg. Why? Because not all bonus abuse stems from players being greedy. Some of it is casino negligence, too.
I've seen so many players denied their withdrawals, or getting outright banned simply for playing casino games because they violated a rule that they didn't even know existed. It's like saying: "I have a few rules that you can't break but I ain't exactly going to tell you what they are. Good luck and have fun." They deserve to be blacklisted, bro!
How to Avoid Being Taken Advantage of by Casinos
Read online casino reviews
This is the best advice I can give you. Reading best online casino reviews is your bread and butter when it comes to staying safe. Skim them, scan them, devour them – whatever! Even if you don't read our reviews, I suggest you read someone else's. There's nothing worse than seeing a casino screw an honest player over.
It's the best practice to get a quick rundown of the gambling site you want to play at. Also, knowing what other users say about an online casino, whether wagering requirements are any good, or what payment methods can't be used for bonuses is worth its weight in gold.
With so many cryptic rules and features that online casinos expect you to recite by heart, casino reviews have become ESSENTIAL. Even a single glance at a casino review can spare you from a world of headaches.
Again, double-check the terms and conditions
If you really, really hate reading casino reviews, then you're on your own. You're gonna have to read those terms and conditions yourself, dawg. Yes, they are long and boring but they contain everything you need to know about the rules and regulations in that particular casino. According to law, online casinos are required to disclose every single item within their terms and conditions – and if they don't, feel free to report them. Heck, report them to us so we can blacklist them.
Deals that are too good to be true
Casinos exist to make money and they do so when players lose money. Also, give players too many generous bonuses, they won't make any money. Do you see the problem? I remember when I was fresh out of college and we saw an online casino that had wagering requirements of only x1. We got so excited that we got in on that bonus without ever realizing the implications it carried.
Turns out, there were only like a dozen games (out of 2000 casino games) that were linked to the bonus and you can bet your ass that they had terrible odds and even worse RTP. I mean, sure, there are online casinos out there that will give you great bonuses. But let's not kid ourselves. Not a single online casino out there is going to give you a deal that's too good to be true. So, keep it cool, dawg.
Check the casino's customer support service
When an online casino has weird terms and conditions, confusing bonuses, and whatnot, the best thing to do is to contact the customer support service. Firstly, if they have no live chat support that's pretty much a dead giveaway that you should avoid the casino at all costs.
If they are a reputable casino and they do have live chat available, ask yourself: What is their customer support like? Is it run by a bot or by a person? Are your questions being ignored or take too much time to get answered? Or is it actually run by someone who knows every nook and cranny of the online casino at hand?
Even when everything seems a-ok, it never hurts to have a quick chat with the casino customer support just so you can gauge what kind of people you are dealing with in case things turn south.
Summary: Is Casino Bonus Hunting Worth The Hassle?
Quite honestly, no. Not really. Even though many casino players prefer to play casino games in order to make a profit, bonus hunting simply isn't the road you want to take. I strongly believe one of the reasons we like online casinos so much is because they provide us with so many ways to use our noggin and test our luck.
If you suck the fun out of online casinos, all you end up with is a bunch of meaningless tasks that need to be finished in order to make money. The last time I checked, that's called a job. I doubt many of you want to feel that way when you play casino games.
In short, bonus hunting isn't something that we recommend. Don't play just to win, dawg. It's not worth the hassle. As always, we got you, bro!