An Overview of the RV Parks in Las Vegas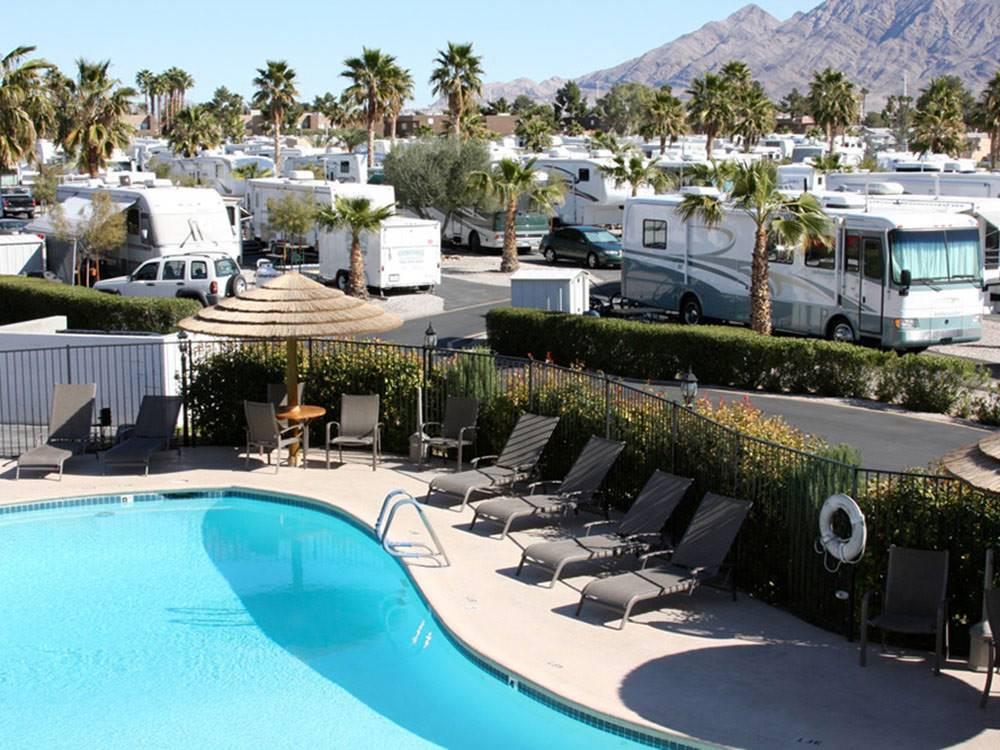 While the majority of Las Vegas' 40 million yearly visitors prefer to stay in one of the city's luxurious resorts, some prefer to bring their own mobile accommodation. Fortunately, there are many RV parks with full connections in Las Vegas, some of which are connected to gambling casinos.
We'll go over both casino-connected and stand-alone RV parks in Vegas in the sections below.
While not every casino in Vegas has a full-service RV park, many will let you park your RV while you're there. To find out where you can park your RV, we recommend phoning the front desk.
Linked to the Casino RV Parks in Las Vegas
Circus Circus RV Park is the only RV park on the Strip, with 170 full-hookup big-rig spots, 60 of which are pull-throughs. A pool/hot tub, play area, dump station, convenience store, and laundry facilities are all available at the RV park. The daily cost of admission to Circus Circus' Splash Zone water park is $10 per person.
Main Street Station RV Park: This RV park, which is connected to the Main Street Station Hotel and Casino in Downtown Las Vegas, has 65 full hook-up (30 and 50 amp) RV spots. The park also has showers and laundry facilities, as well as access to the California Hotel and Casino's pool and fitness centre.
Arizona Charlies Boulder: The RV park at Arizona Charlies gives guests showers, laundry facilities, an outdoor pool, wireless internet, and restrooms in addition to 200 full hook-up (30 and 50 amp) sites ranging from 30-70 ft.
The Las Vegas KOA in Sam's Town is a 500-spot RV park with full hook-ups (30 and 50 amps), wireless internet, a communal BBQ area, two pools, laundry, and shower facilities.
RV Parks in Las Vegas That Aren't Part of a Casino
Riviera RV Park (not to be confused with the famed casino of the same name) is a 55+ park with 135 parking spaces located about 2 miles from the Strip. Riviera provides both daily and monthly rentals and is conveniently located near convenience/grocery stores and eateries.
King's Row RV Park is a 15-minute Uber ride from downtown Las Vegas and has 474 full hookup spots. Laundry facilities, a pool, on-site security, and convenient access to public transit are all available.
Las Vegas RV Resort has 389 full hookup spaces, including 100-foot pull-throughs, within walking distance to Sam's Town. Free WiFi, a heated pool, picnic tables at each site, a workout centre, laundry facilities, and a 24-hour patrol are among the amenities available. You won't have to worry about youngsters raising a commotion because this is an adult-only RV park.
Hitchin' Post RV Park: If you prefer to remain away from tourist traps, Hitchin' Post could be a perfect choice. The park has its own saloon/restaurant, high-speed internet, golf practise facility, swimming pool, fitness centre, and even a hot water dog wash, in addition to 197 full hookup RV sites.
Thousand Trails RV Park features free WiFi, a swimming pool/hot tub, showers, laundry facilities, a picnic area, and cable TV just steps from from Boulder Station Casino on the Boulder Strip.
Duck Creek RV Park is located on the south end of the Boulder Highway, away from casinos and tourist attractions, and offers both standard and pull-through RV sites. A playground, heated pool/hot tub, picnic area with grill, showers, and laundry facilities are also available at the RV park.
Oasis Las Vegas RV Park: Oasis is in an excellent location for gamblers, as the Silverton Hotel & Casino is immediately across the street. Due to Oasis' location on the south end of the Strip, resorts including Mandalay Bay, Luxor, South Point, and Tropicana are just a short Uber ride away. In addition to the traditional pool, security, laundry, and convenience store, the RV park offers some unique features such as an 18-hole natural grass putting green and horseshoe pits.
Las Vegas Motorcoach Resort: Like Oasis, Las Vegas Motorcoach Resort is a short ride from the Strip and feet from Silverton. Guests can enjoy a swimming pool with two hot tubs, an onsite restaurant, free wireless internet, and the beauty of over 400 palm trees in addition to the 400 RV sites.
Red Rock Canyon Campground: If you're looking for a Las Vegas RV park with natural surroundings, look no farther than this jewel in the Red Rock National Conservation Area. This RV park, which is only 20 minutes from the Las Vegas Strip, may be the ideal blend of nature and the typical Vegas experience. There are only six RV sites available, so book early!
The Las Vegas RV Resort, which is about 20 minutes from the Strip and near Sam's Town and Boulder Station, has over 375 RV sites with full hookups and pull-through places. Laundry, a pool, a pet area, and a fitness centre are among the amenities available.
Hopefully, our list of Las Vegas RV Parks proved useful in assisting you in finding a suitable option. There are plenty of alternatives to pick from, whether you want a casino with associated RV parking or a stand-alone site with full hookups and all the amenities you'd expect!