On The Strip, Las Vegas Hotel Rooms with a Two-Person Bathtub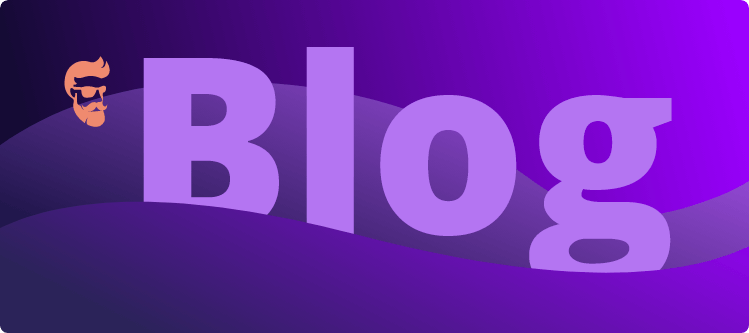 Hotel rooms with a bathtub large enough for two people are a popular luxury for couples planning a romantic holiday in Las Vegas, but they can be difficult to come by. To assist you in your search, we've compiled a list of hotel rooms on the strip with a two-person tub.
We'll make sure to link to the room for each option so you can easily compare and contrast your choices.
Hotel Rooms with a Two-Person Bathtub on the Strip
The Tower Spa Suites at the MGM Grand feature a two-person whirlpool tub and almost 700 square feet of area. The Stay Well Tower Spa Suite at MGM Grand includes a two-person tub, as well as an air purification system, advanced water filtration, and a memory foam mattress for the health-conscious.
The Signature at MGM Grand: While not exactly "on the Strip," an indoor walkway connects The Signature at MGM Grand to MGM Grand and the Strip. A two-person bathtub with jets is included in every room at The Signature. Here you can compare different room alternatives.
New York: The New York Spa Suite New York has a cloverleaf-shaped tub with jets that can accommodate two people. This option is one of the largest of the bathtubs on the list.
Must Read: Garden Buffet Reviews
Luxor: The Two Queen and One King Pyramid Corner Suites at Luxor's renowned pyramid both have a huge two-person clover-shaped bathtub with a window outlook. A living area and 850 square feet of space are included in the Corner Suite.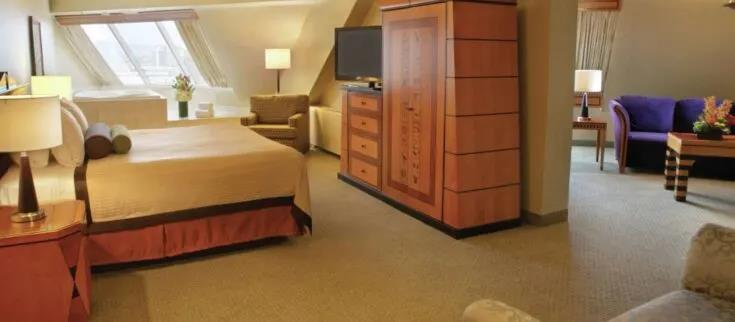 Excalibur: The Royal Luxury Suite at Excalibur is located within the castle on the south end of the Strip and features a two-person bathtub in the bedroom. There's also a wet bar with a fridge, a 40-inch TV, and roughly 700 square feet of space in the room. Luxor and Excalibur are both excellent choices for individuals looking for a suite with a two-person tub at a reasonable price.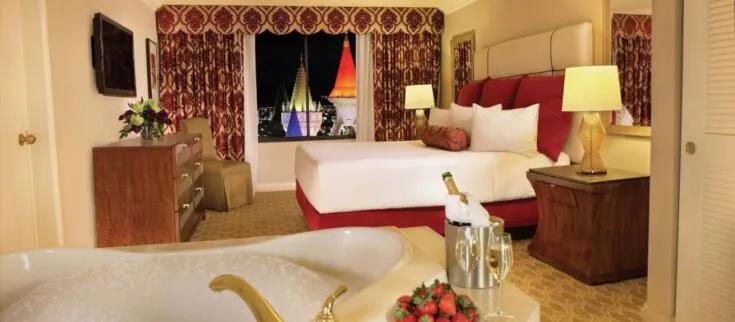 Bally's: Bally's Executive Suites have a two-person tub between the bathroom and the bedroom. In addition to 650 square feet of space, and a coffee maker, the recently remodeled rooms have a 55-inch TV. Here you may look at suite alternatives and get a quote for your dates.
The Burgundy Petite Suite in Paris has a wet bar, marble bathroom surfaces, and a bathtub large enough for two people. Check room rates and compare possibilities for your dates here.
Tropicana: The Club Spa Suite at Tropicana has a huge bathtub large enough for two people directly in the bedroom. The suite includes a separate living room and is designed to give guests a "residential experience."
TI: The enormous tub in the Petite Suites at Treasure Island is likely big enough for two people, albeit it is a little smaller than the other tubs on the list. If you or your partner are taller, I would recommend a different type of lodging.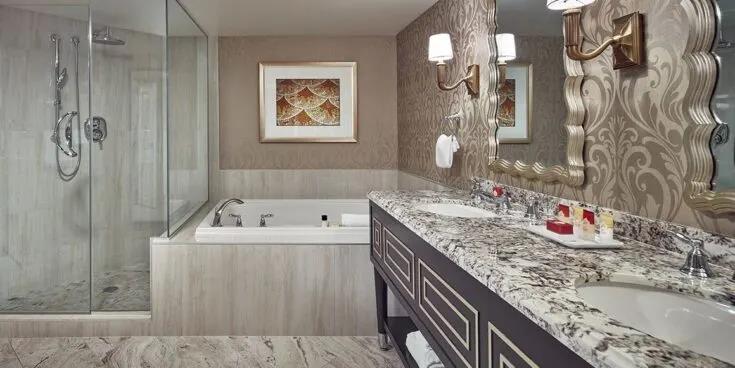 Cosmopolitan: Their Terrace One Bedroom Suite exudes the luxury you'd expect from Cosmo, with a 2 person Japanese Soaking Tub. Even better, the tub sits next to a window that overlooks the Las Vegas Strip.
Must Read: Happy Hours Cheap Drink
We hope we were able to assist you in finding a hotel room in Las Vegas with a two-person bathtub that meets your needs. Despite the restricted selection, there are options all along the Strip that span the price/quality spectrum.