The History of Gambling in Australia: The World's Unofficial Gambling Capital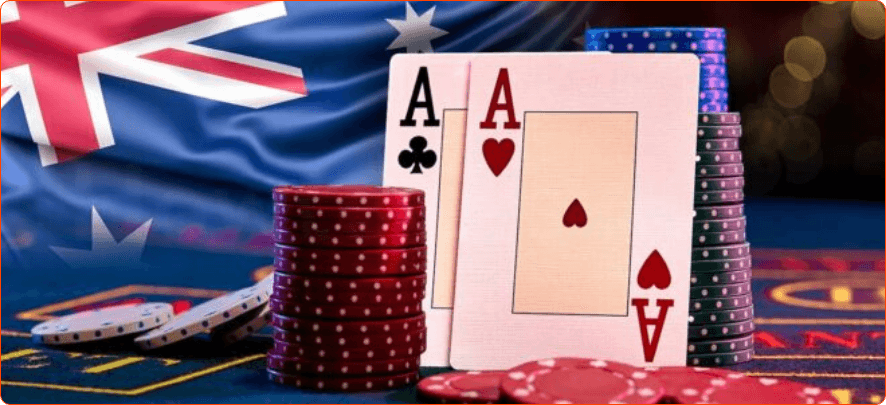 With over 80% of adults engaged in some form of gambling, Australia is the unofficial gambling capital of the world! Every year, Land Down Under spends close to 20 billion dollars on sports betting, horse racing, online casino games, and land-based gambling registered clubs. The gambling industry is literally a part of Australian culture, and our gambling revenue is a very important issue both for citizens and the government.
Australians gamble like crazy, so much so 1% of all players suffers from significant gambling problems, while another 2% experience moderate risks. The average Australian adult spends around $1,500 per year on gambling alone, with lotteries and scratch cards being the most popular form of gambling. Pokies (slot machines) and horse races come at a close second, followed by virtually all other gambling activities, including sports, betting and a wide range of online gambling games.
History of Gambling in Australia – How It All Started
The Australian gambling landscape started taking shape back in 1788, when European settlers set their foot on the territory we today know as New South Wales. Technically, gambling began as soon as people came to Australia, but before we had Australian casinos, poker machines, and other gambling games, the settlers invented a coin game called Two-Up. It's played with two pennies, where participants bet whether they will fall with both heads, both tails, or with one coin a tail and another ahead. It's traditionally played on Anzac Day in pubs, even today, to commemorate fallen soldiers (Diggers) and/or celebrate their safe return.
Fun fact: Two-Up 'Purge' on Anzac Day
Two-Up was intensively played by Diggers in WW1, despite being illegal. After the war, the Australian population was permitted to play the game (and some other gambling games, unofficially) but on Anzac Day alone. Even today, it's illegal to play Two-Up at any given moment except on Anzac Day, or if you opt for online casinos or land-based casinos that feature Two-Up as a table game variation.
Hyde Park, Where History Was Made
It was in 1810 when the first official gambling event took place in the Land Down Under. At the order of Governor Macquarie, a horse race was held in Hyde Park, setting a gambling history landmark and establishing horse racing as one of the major sports and gambling events in all Australian states. By 1840, horse racing was done widely in Victoria, Queensland, Western Australia, and South Australia, with Tasmania offering the same gambling services since 1814.
As the gold rush took the center stage, Australia faced an unprecedented growth of bookies which obviously presented both a legal and security problem. Gambling needed some sort of regulation and control, so the Australian Jockey Club was founded in Sidney, back in 1842. Not long after, Australian Rules of Racing and Principal Clubs started popping up all across Australia, and the Victorian Racing Club organized the first Melbourn Cup in 1861. Today, it is still one of the biggest sporting events in Australia, gathering billions in gambling revenue.
A Lottery Forged in War
The first official Australian lottery was initiated during WW1. Before that, during the 1880s, George Adams used sweepstakes for the Sidney Cup. They were soon prohibited in New South Wales but boomed right after in Tasmania, Victoria, and Queensland, paving the road for the Golden Casket Lottery – the first ever in Australia.
It was in 1916 when the first Golden Casket Lottery took palace in Queensland. The goal was to gather money for veterans of war coming home from Europe and throughout the years Golden Casket helped many causes, from Child Welfare and Hospital Fund to Red Cross, only to become a part of Tatts Group in 2007.
Pokies a.k.a. Slot Machines
Pokies were an instant hit in the mid-century United States of America, so an Australian company named Aristocrat decided in 1953 to introduce them in Straya. The first game they created was Clubman, replaced by the Clubmaster in 1955. NSW legalized gaming machines a year later, making them available in registered pubs and clubs. This was a huge deal back in the day, a gamechanger in the history of gambling that made Australia what it is today – the gambling capital of the world.
Other states did the same in no time, and wouldn't you know it, Aussies fell for pokies immediately. Keep in mind that pokies of the time were 3 reeled, one to five-lined antiques with ridiculously small jackpots and no interaction whatsoever. We had to wait till the 80s for the first video slot machine to emerge, with 5 spinning reels, more paylines and gambling options. Then came the 90s and an increasing number of elaborate pokies started appearing in every bar or club.
If we eliminate tax heavens, overseas territories, and several microstates such as Antigua and Barbuda, no other country has more pokies and gambling machines per capita than Australia. The highest revenue is gathered in Fairfield, Hunter region, Central Coast region, Gold Coast area, etc.
The First Legal Casino in Australia
Before the advent of online casino sites and contemporary sports betting mania, it took Australians a whole century to cement the legal details necessary for a particular business to be considered a fully-fledged casino. It was in 1973 when Tasmanians, after years of legal struggle, decided to boost the tourism industry by opening the first legal casino in the country, The Wrest Point Hotel Casino in Hobart.
This is the first time Australian players didn't have to play hide and break the law, nor were their gambling activities limited to poker machines and pokies. Wrest Point Casino was the place to be. The roulette wheel started spinning, and between 1985 and 1986, dozens of casinos started spreading across Queensland, Western Australia, and South Australia.
Australian Casinos in Victoria
While NSW and other states were reaping the fruits of the gambling industry, gambling in Australia still had some limitations. Namely, Victoria. It was the economy, more precisely – the poor state of it, that forced premier Joan Kirner to lift the ban on gambling in 1991. This allowed pokies to surge in that part of Australia. The Casino Control Act was passed in the same year, and in 1994 Crown Casino was opened in Melbourne, over time becoming the largest gambling complex in the entire Earth's Southern hemisphere.
The Interactive Gambling Act
Something drastic happened in the late 90s, something that will turn gambling in Australia upside down. The internet happened, introducing online gambling and online casinos to Australian adults. In a sense, this was a moment in history when gambling began to spread across the continent – again.
Needless to say, the Australian government was fully aware of potential dangers and profits, which is why the Interactive Gambling Act (IGA) was passed in 2001. Its main goal was to control online gambling in Australia and make gambling online both safe and profitable. The law was introduced in order to control online gambling games and numerous online gambling activities. This includes preventing money laundering, underage gambling and reducing the risk of gambling addiction. 20 years later, online gambling has surpassed land-based casinos by almost all measurable criteria – most importantly, revenue.
The Explosion of Online Gambling
While IGA prevents domestic online casino operators to offer their services to Australians, before all gambling for real money, gambling online is perfectly legal in off-shore owned and operated casinos. Hundreds and hundreds of online casinos are offering us everything we want, poker machines, live casinos, pokies, casino table games – you name it. It is more than a trend, and the online casino industry is gaining more and more traction among Aussie players as we speak.
Online Gambling Sites
With so many different online gambling sites, one could argue that this is the best time to be alive if you are a punter. Online casinos come in all shapes and sizes, making it literally impossible not to find a game that will suit your preferences and playstyle. The same applies to banking methods, accepted currencies, and languages used. Heck, we even have gambling with cryptocurrencies now, and casinos with benefits and bonuses specially designed for crypto users.
The only potential annoyance for True Blue gamblers is caused by the lack of certain games and banking methods available for the Australian market. Sooner or later we'll miss out on a game or two, but neither us nor online casinos are to blame. It's the game providers and their market limitations preventing Aussies from accessing their full game catalogue.
The Difference Between Online Poker And Pokies

Online poker and other online gambling variants of the game are still one of the most popular games in the casino industry. But what differentiates a poker machine and a pokie, apart from the game itself, and why do pokies and video poker slots have different wagering contributions?
Pokies are run by a random number generator (RNG), and they all have fixed volatility and return to player percentage (RTP). A pokie with an RTP of 96% will on average payout 96 cents on every dollar it takes.
On the other hand, video poker games can be mastered over time because their outcomes are not entirely random. Sometimes betting patterns and sequences can be spotted by expert gamblers. This is why online casinos favour pokies to video poker machines, giving players better terms and the latest casino bonuses. After all, skilled players cannot exactly use their experience to their advantage when playing pokies. It's all just random.
Must Read: Latest Casino Bonuses Australia
Sports Betting
It all started with horse racing back in the 19th century, and with the advancement of technology and media, Australians turned to other sports as well. Mostly soccer, tennis, cricket, rugby, and golf. The online gambling industry, particularly mobile apps, shifted the gambling focus from old-school betting to smartphones and tablets.
Furthermore, modern times brought us commercial arrangements between all sporting participants, clubs, bookies, stadiums, etc. Consequently, this led to an increase in both marketing and betting revenue. Judging from the current situation and trends in online betting, we firmly believe that gambling will continue to prosper in Australia.
Why is Gambling Legal in Australia?
Australians do not pay tax on their gambling winnings. Instead, taxes are imposed on operators offering interactive gambling services. This is because the Australian government does not view online gambling as a taxable income. According to Aussie law now, gambling earnings are a product of luck, not work or providing goods and services. After all, casino players usually lose a lot of money before they bring home the bacon so Australia must have hit a bullseye with that one. We got you, Bro!